JW Marriott Indianapolis - March 2-4, 2023
2023 Football Career Conference
This conference is your chance to meet Scouts, Agents, Player Personnel, Media, and Management in NFL careers. In the process, you'll learn how to advance your career at all levels of football!
Our annual Football Career Conference at the NFL Combine provides you with the exposure that you can't get anywhere else:
Networking with NFL executives
Career guidance from well-known NFL executives
Insights on who is doing the hiring and what you need to know to get hired
Connect with sports career-minded individuals
Mentors who have been where you are and want to assist you with your career
Insider information about changes in the industry that put your career on the fast track
Strategies to catapult your career to the next level
NFL Combine Ticket registration

Who Should Attend the 2023 Football Career Conference?
This conference is designed for individuals who have always dreamed of working in football. Aspiring agents, executives, scouts, sales reps, marketers, analysts – all will learn a bevy of insider information to help set them apart in the employment race.

Attendees include business professionals hoping to break into sports, sports agents looking to network, college students trying to get a foot in the door, football fans interested in changing careers, and many more satisfied participants.

We do require attendees to be over age 18 (16-17 if accompanied by an adult).

2023 Featured Speakers
*Speakers are subject to change.

Adam Schefter
ESPN Announcer

Paraag Marathe
San Francisco 49ers President

Mark Dominik
ESPN Analyst and Former Tampa Bay Buccaneers GM

Scott Fitterer
Carolina Panthers General Manager

Dr. China Jude
Denver Broncos VP of Diversity, Equity, and Inclusion

Amanda Dinkel
Atlanta Falcons Director of Community Relations

Aaron Schatz
Football Outsiders Founder & ESPN Insider & SMWW Faculty

Brian Richardson
Indianapolis Colts Director of Diversity, Equity, and Inclusion

Kavontae Turpin
Dallas Cowboys Wide Receiver/Return Specialist

Kelli Masters
NFL Agent

Bryan Harper
Minnesota Vikings VP of Media and Content

Dane Vandernat
NFLPA Bowl Director of Player Personnel

Jim Van Dam
Indianapolis Colts VP of Ticket Sales and Service

Kristen Kuliga
NFL Agent

Patrick Woo
Tennessee Titans Scouting Coordinator

Joel Corry
Former NFL & NBA Agent and Salary Cap Expert

Ric Serritella
NFL Draft Bible Founder

Bill Guertin
800-Pound Gorilla CEO

Dr. Lynn Lashbrook
SMWW President & Founder, Certified NFL Agent, Former NCAA Athletic Director, Sports Business Keynote Speaker


Why Should You Attend the Football Career Conference?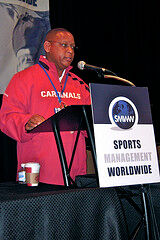 There are very few chances for you to learn from, and ask questions of, pillars in the industry. Speakers like Adam Schefter, Mark Dominik, John Wooten, and Dr. China Jude aren't coming to your current business, or your college classroom, to discuss the strategies and skills necessary to work in the NFL.

At the Football Career Conference, they will. If fact, following their presentations, many speakers stick around to engage the attendees in one-on-one discussions.

Head coaches, Directors of Player Personnel and Scouting, ESPN writers, Sports Agents, Pro Athletes, and many others will be present at this one-of-a-kind event.
Attend the "Invite Only" 2023 NFL Combine:
In past years, approximately thirty days prior to the conference, those registered would be sent an invitation for complimentary tickets to the NFL Combine at Lucas Oil Stadium. We recommend you choose Saturday to attend the combine but other days should be available. For those of you booking flights that want to attend the combine, we recommend booking your flight to leave after 5 pm Saturday.
Come enjoy the excitement of the NFL Combine and watch future NFL playmakers participate in on-field drills in front of NFL scouts and NFL Network cameras! Fans are encouraged to wear their favorite NFL team gear and cheer on NFL prospects as they start their journey to becoming a member of the NFL family. Take the opportunity to take a photo with the Colts Super Bowl XLI Vince Lombardi Trophy and view all 55 Super Bowl rings up close! Listen to NFL stars and Legends break down the game in exclusive chalk talks the first week of March.
Our wish is to offer attendees an opportunity to watch college players as they are evaluated by 32 NFL teams. Register for the conference and you will be sent the NFL Combine registration information.

Where Does the Conference Take Place?
SMWW NFL Combine Career Conference
Friday, March 3, 2023
Time: 8:00 am - 5:00 pm
SMWW Welcome Reception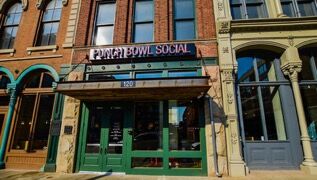 Thursday, March 2, 2023
Time: 7:00 pm - 9:00 pm
Punch Bowl Social becomes NFL Combine Networking headquarters. (Like an indoor tailgater at the pregame!) Eat light appetizers, enjoy adult beverages, play corn hole, billiards, giant Jenga, giant Scrabble, bowl, karaoke, and get to know your fellow conference attendees in a fun interactive atmosphere.
Reserve Your Hotel Room Here
Once you register, we will email you the link to book your room at a conference discounted rate.
What to Expect at the Football Career Conference
Upon arrival and registration, you will receive a full agenda outlining the entire 2-day conference. Due to the NFL combine schedule and the fluidity of our speaker's work commitments, we juggle speaking engagements and panels up to the last minute! Below you can see the final agenda of our event last year, to give you a rough idea of what this year will present.
One thing we can guarantee – the event will be jam-packed with speakers and opportunities to network, ask questions, and learn from the best in the business. Every year, we have surprise visits from NFL personnel, who literally walk by our meeting rooms all day and jump into a discussion or panel.
Being in the heart of the NFL Combine, where over 2,500 team executives, scouts, and media members are congregating, makes the difference!
Please note: This is NOT an opportunity to participate in the combine as an athlete.

SMWW's Industry Leading Courses Featured In:
Group Discounts
In the past, entire University Sports Management programs have attended. If you are interested in a group rate, please contact ike@smww.com, and we can provide group discounts for 5-50 people.
*SMWW's Career Conference is not affiliated with the NFL.

2023 FOOTBALL CAREER CONFERENCE AGENDA
Note: Speakers and speaking times will change as NFL team meetings change. Information will be updated as it becomes available.

Thursday: March 2nd, 7-9 pm EST
Welcome Reception at Punch Bowl Social
7:30 PM: Kicking Off Your Career in Sports with Paraag Marathe, 49ers President
Friday: March 3rd, 8 am-5 pm EST
7:30 AM: Registration Opens

Coffee and Bagels, Check-in, get settled in seats


8:10 AM: Kick Off with Bill Guertin, The 800 Pound Gorilla Founder & CEO

8:20 AM: Adrenalize Today, Monetize Tomorrow with Dr. Lynn Lashbrook, SMWW President & NFLPA Agent

8:30 AM: Sports Media Landscape (Moderator: Bill Guertin)

​Andrew Siciliano - NFL Network Host
Jen Mueller - Seattle Seahawks Sideline Reporter
Bryan Harper - Minnesota Vikings VP of Content and Production/SMWW Mentor


9:15 AM: The Life of an NFL General Manager (Moderator: Dr. Lynn Lashbrook)

Mark Dominik - Former Tampa Bay Buccaneers GM
Rick Spielman - Former Minnesota Vikings GM


9:50 AM: Break

10:00 AM: The Man Behind the Breaking News (Moderator: Dr. Lynn Lashbrook)

Adam Schefter - ESPN Senior NFL Insider


11:00 AM: The Art of Scouting and Analytics (Moderator: Dr. Lynn Lashbrook)

​Patrick Woo - Tennessee Titans Scout
Dane Vandernat - NFLPA Bowl Director of Player Personnel/SMWW Mentor
Ric Serritella - NFLPA Bowl Scout
Aaron Schatz - Football Outsiders Almanac Editor in Chief/SMWW Mentor


12:00-1 PM: Halftime (Lunch)

1 PM: Making it to the NFL with Kavontae Turpin (Moderator: Dr. Lynn Lashbrook)
Kavontae Turpin - Dallas Cowboys Wide Receiver/Return Specialist
Brian Lowe - SMWW Agent Advisor and TeamUp Sports Consulting LLC
Perry Boler - SMWW Agent Advisor and TeamUp Sports Consulting LLC
Joel Corry - SMWW Mentor and Former NFL Agent

2:00 PM: Diversity, Equity, and Inclusion in Sports: (Moderator: Orlando Ledbetter)

Dr. China Jude - Denver Broncos Vice President of Diversity, Equity, and Inclusion
Brian Richardson - Indianapolis Colts Director of Diversity, Equity, and Inclusion


2:45 PM: Break

3 PM: Breaking into the Sports: The path to an entry-level job (Moderator: Bill Guertin)
Jim Van Dam - Indianapolis Colts Vice President of Ticket Sales and Service/SMWW Mentor
Amanda Dinkel - Atlanta Falcons Director of Community Outreach

3:45 PM: The Life of an NFL Agent and the Secrets of Contract Negotiation (Moderator: Ike Worth)

Kristen Kuliga - NFL Agent/SMWW Mentor
Kelli Masters - NFL Agent/KMM Sports Founder
Joel Corry - SMWW Mentor and Former NFL Agent
Ryan Williams-Jenkins - NFL Agent/Divine Sportsent Agency
Nick Polk - Former Atlanta Falcons Director of Football Operations


4:45 PM: Go Global or Go Home (Bill Guertin and Dr. Lynn Lashbrook)

5:00-6:30 PM: Overtime (Networking Happy Hour with drinks & appetizers)
NFL Combine Information
Lucas Oil Stadium
500 S Capital Ave
Indianapolis, Indiana 46225
For those of you who registered for the conference, you may be given preference to attend the NFL Combine

Upon registration, you will receive instructions on how to apply for your ticket (please check your ticket for time confirmation).

You are not guaranteed you will get into the NFL Combine.
Scholarships
SMWW will award a limited amount of full and partial scholarships for each SMWW Career Conference. You must be 18 years or older to be considered. If interested, fill out an application and submit your resume and a one-page letter explaining why you should receive a scholarship to info@smww.com.

Scholarships do not include lodging or airfare. Those who have completed an SMWW Training Program will be given preference. Scholarships cannot be given retroactively after having purchased a registration.
SMWW Staff
Dr. Lynn Lashbrook, SMWW President
Liz Lashbrook, SMWW Executive Director
Jeff Brodie, SMWW Vice President & NFLPA Agent
Ike Worth, SMWW Business Operations Manager
Jon LaForce, SMWW Career Advisor
Sara Landis, SMWW Business Operations Coordinator
Maikel Tsuji, SMWW Career Advisor
Dr. Chuck Patterson, SMWW Career Advisor
Previous Speakers
Note: Due to Team Meetings, speakers are not guaranteed and will change. The closer we get to the date, the more accurate the schedule becomes as executives do not yet know their team meeting schedules.
Aaron Schatz, Football Outsiders & Pro Football Prospectus
Adam Caplan, ESPN NFL Insider
Adam Farrand, Athletes Performance Institute – NFL Combine & Football Business Development Manager
Adam Schefter, ESPN NFL Insider
Alex Brown, Optimum Scouting Head Central Scout
Bill Guertin, The 800-Pound Gorilla, Marketing Consultant to 65 Major League Teams
Bill Polian, ESPN Analyst, former NFL Executive
Bryan Harper, Minnesota Vikings VP Content and Productions
Daniel Krywaruczenko, InstantScouting Assistant Director
Darren Heitner, Sports Lawyer, Dynasty Dealings, Sports Business Author
Dr. Lynn Lashbrook, President, and Founder of Sports Management Worldwide
Greg Hylton, Indianapolis Colts VP Premium Seating and Ticket Sales
Jack Mills, NFL Agent
Jackie Davidson, NFL Consultant
Jackie Davidson, NFL Salary Cap Consultant
Jen Mueller, Seattle Seahawks Sideline Reporter
Jim Solano, NFL Agent
Joel Corry, CBSsports.com Writer, and SMWW Faculty
John Wooten, NFL Legend
Josh Liskiewitz, Pro Football Focus Analyst (SMWW Success Story)
Kelli Masters, KMM Sports Agency Founder & NFL Agent
Kristen Kuliga, NFL Agent
Les Snead, LA Rams General Manager
Marc Trestman, Toronto Argonauts Head Coach
Mark Dominik, ESPN Analyst and Former Tampa Bay Buccaneers GM
Matt Moore, Former NFL Quarterback, Miami Dolphins Scout
Matt Sheldon, Miami Dolphins director of Football Research and Strategy
Michael Tanier, Bleacher Report NFL National Lead Writer
Mike Stoeber, Jacksonville Jaguars Associate Director of Football Technology and SMWW Faculty
Mike Tannenbaum, Miami Dolphins Executive Vice President, Football Operations
Paraag Marathe, San Francisco 49ers President
Ray Farmer, Former Cleveland Browns
Ray Haija, MGA Sports NFL Agent (SMWW Success Story)
Ric Serritella, NFL Draft Bible Founder
Russ Lande, GM Jr. Founder and SMWW Faculty
Steve Baker, NFL Agent
Steve Palazzolo, Pro Football Focus Senior Analyst
Tom Mills, NFL Agent (Baker Mayfield)
Tony Khan, Jacksonville Jaguars Senior VP of Football Technologies
Zack Moore, Caponomics Author
Check Out Our Photos From The 2019 Football Career Conference