2021 Baseball Career Conference - Orlando
December 5-7, 2021
Meet Scouts, Agents, Player Personnel, Media, and Management in MLB careers while gaining valuable insight into a variety of careers from those working at all levels in baseball!
Due to the MLB Lockout, the Baseball Winter Meetings have been cancled for this year. Sports Management Worldwide is still evaluating other options for a Baseball Conference, and we are still planning on hosting our Conference at the 2023 Winter Meetings.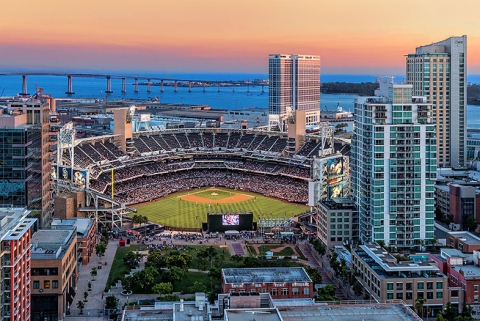 What is the Baseball Winter Meetings*?
The Baseball Winter Meetings* is an annual event, held each December, in which representatives of all 30 Major League Baseball teams and their 120 minor league baseball affiliates convene for four days to discuss league business and conduct off-season trades and transactions. Attendees include league executives, team owners, general managers, team scouts, visitors from baseball-playing countries, trade show exhibitors. The 2021 Baseball Winter Meetings* will take place Dec. 5-9, at the Walt Disney World Swan and Dolphin in Orlando, Florida.
*SMWW's Career Conference is not affiliated or any way connected with MLB, Minor League Baseball, or the Baseball Winter Meetings.
What is the SMWW Baseball Career Conference?
The SMWW day-long career conference offers unique panel discussions and question-answer periods designed to start or advance your career in the business of baseball. The day will be split up into diverse speaker panels; including scouting, marketing, management, media, public relations, digital video editing, athlete representation, broadcasting, and sports career strategies. The Welcome Reception and Networking Lunch offer attendees to network within the business side of baseball.
Why should you attend?
Simply put, if you work in baseball or want to work in baseball, this is a must-attend event!
Our annual SMWW Baseball Career Conference provides people of all ages with a desire to work in the MLB, minor league baseball, and collegiate baseball, insight and exposure they can't get anywhere else. This event puts you in the heart of the baseball universe. Baseball Winter Meetings* are not open to the public, however, the SMWW Baseball Career Conference will give you the opportunity to ask questions of Agents, Scouts, Analysts, Media and Player Personnel including:
Network with baseball executives at the major league, minor league, and collegiate level
Career guidance from the well-known major league, minor league, and collegiate level executives
Insights on who is doing the hiring and what you need to know to get hired
Connect with sports career-minded individuals
Mentors who have been where you are and want to assist you with your career
Insider information about changes in the industry that put your career on the fast track
Strategies to catapult your career to the next level

*SMWW's Career Conference is not affiliated or any way connected with MLB, Minor League Baseball, or the Baseball Winter Meetings.
Who Should Attend?
Anyone 18 years or older working on the business side of baseball, wanting to work in baseball, or baseball fans wanting to learn about the inner workings of the game. (17 and younger may attend with an adult.) This includes executives and staff at the major league and minor league level, MLB employees, scouts, agents, baseball writers and bloggers, baseball-related manufacturers and equipment companies, current, and former professional players, etc.

Where
SMWW Baseball Career Conference sessions will take place in the Orlando, Florida.


The SMWW event is the best learning experience of the year for understanding how the entire sports market works. I enjoy hearing from a broad spectrum of presenters including executives, front office workers, scouts, players, agents, marketing, media. I've worked in major league sports for 20 years and find SMWW events fresh and unique.


Ari Kaplan, Moneyball Analyst for Professional Teams

SMWW's Industry Leading Courses Featured In:
2019 Featured Speakers
*Speakers are subject to change.

John Boggs
MLB Agent
Mike Matheny
Kansas City Royals Manager
Scott Bush
SABR Chief Executive Officer
Erin O'Donnell
Gwinnett Stripers Assistant General Manager
Rick White
Atlantic League President
Dan Evans
Former LA Dodgers GM & former Toronto Blue Jays Scout
Emily Jaenson
Reno Aces Baseball Club General Manager
Hank Jones
Former LA Dodgers Scout
Sam Ray
San Diego Padres Manager, Amateur Scouting
Craig Calcaterra
HardballTalk at NBC Sports.com Lead Blogger
Alyson Footer
MLB National Correspondent
Ari Kaplan
Scoutables Founder & Baseball Analytics Leader
Andrew Engel
DataRobot Data Scientist and General Manager, Sports and Gaming
Alexis Collins
Baseball Prospect Evaluation/Writer
Bill Shaikin
Los Angeles Times Sports Writer
Dan Duquette
Former Baltimore Orioles General Manager
Oscar Suarez
MLBPA Agent, SMWW Faculty
Joseph Myers, Ph.D.
Tampa Bay Rays Director of Baseball Performance Science
Gabriel Suarez
San Rafael Pacifics President and Owner
Dan Rosquette
MLBPA Agent
Trey Rose
Assistant, Baseball Operations, Pittsburgh Pirates (SMWW alum)
Sylvia Lind
MLBPA Agent
Phil Van Horn
MLBPA Agent
Lynn Lashbrook
President & Founder of SMWW. Certified Sports Agent. Former NCAA Athletic Director.
Past Speakers
Speakers vary from year to year:
Dayton Moore, KC Royals, GM
John Boggs, MLB Agent
Ned Colletti, LA Dodgers GM
Peter Gammons, Hall of Fame Writer and MLB Analyst
Harold Reynolds, MLB Network On-Air Talent, and Fox Sports Analyst
Joe Hamrahi, Co-Founder 2080baseball.com and Former President of Baseball Prospectus
Fred Claire, Former LA Dodgers GM, and Well-Known MLB Executive
Don Welke, Vice President Scouting Operations San Diego Padres
John Cox, Major League Scout and Pacific Rim Scout San Francisco Giants
Tracy Ringolsby, Hall of Fame Writer for MLB.com & Baseball America
Dan Evans, Toronto Blue Jays Scout, Former LA Dodgers GM
Pat Gillick, 3-Time World Series GM, and HOF
John Mozeliak, St. Louis Cardinals GM
Jayson Stark, ESPN Senior Baseball Analyst
Stan Kasten, Los Angeles Dodgers President
Jay Miller, Texas Rangers Senior VP
Tyrone Brooks, Pittsburgh Pirates Director of Operations
Lee Folger - Baseball America President/Publisher
Cory Schwartz, MLB Advanced Media Vice President, Stats
Bill Squadron, Bloomberg Sports GM
Jerry Crasnick, ESPN and Baseball America
Rob Neyer, SB Nation National Baseball Editor, and Well-Known Baseball Author
Tony DeMacio, Director Scouting Atlanta Braves
Toney Howell, Special Assistant GM LA Dodgers
Dr. Lynn Lashbrook, SMWW President and Founder
Benjamin Hill, Baseball Writer, MiLB.com
Jeff Idelson, President, National Baseball Hall of Fame and Museum
Mark Galuska, Director of Marketing and Sales, Columbus Clippers (AAA-Indians)
Bobby Brett, Brett Sports & Entertainment and Spokane Indians Managing Partner
Bob Masewicz, Total Sports Entertainment Owner
John Manuel, Baseball America Editor in Chief
Tom Whaley, St. Paul Saints, Executive VP & Owner
Dana Sinclair, Sports Psychologist - Clients include Indianapolis Colts, Seattle Seahawks, Boston Red Sox, Los Angeles Dodgers, Toronto Maple Leafs, Anaheim Ducks, and Portland Trail Blazers
Ari Kaplan, Scoutables President, Leading Figure in Sports Analytics
Oscar Suarez, MLB Agent
Tom Leip, Salem-Keizer Volcanoes President
Will Carroll - Contributor, SI.com
Hector Gomez, MLB Agent
Joe Favorito, Sports Publicity & Marketing Consultant
Bobby Evans, San Francisco Giants, Dir. of Player Personnel
Alyson Footer, National Correspondent MLB.com
Sal Artiaga, Former President of Minor League Baseball
Dr. Jose Goyos, Ph.D. L.C.S.W. Kansas City Royals Sports Psychologist
Mike Birling - Durham Bulls GM
Tom Giordano, Special Assistant GM Texas Rangers
Scott Akasaki, Los Angeles Dodgers Travel Director
Maury Brown, Founder and President of The Biz of Baseball
Larry D'Amato, Former MLB Scout
Mark Smith, Oakland A's Minor League Video Coordinator

More about the Baseball Winter Meetings*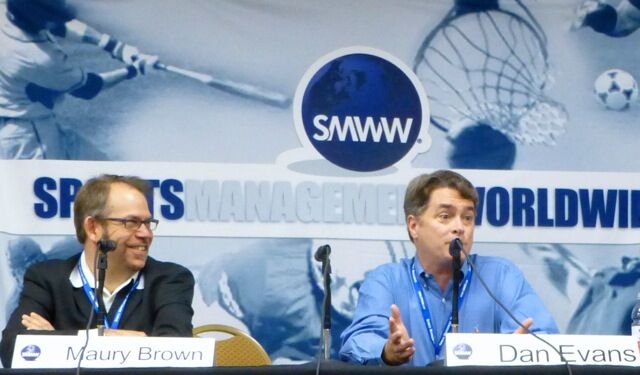 For those of you who have never experienced the Baseball Winter Meetings*, it is fascinating! This event is the major baseball event of the year. GMs, player agents, executives, managers, and yes, a few players all attend. It's an event worth attending if you are looking to network, report on the signings and trades that go down, or for fans to feel the energy and excitement. Where else can you have Tommy Lasorda, Bill James, Mike Rizzo, Scott Boras, Bob DuPuy, Billy Beane, Harold Reynolds, Lynn Lashbrook, Dan Evans, and Bobby Cox all within 20 feet of each other? (As reported by Maury Brown) There's also trainers, scouts, media, reps from the leagues, ESPN, Baseball America, MLB Network, MLB.com...it is a plethora of baseball who's who. Attending the SMWW Baseball Conference and walking around will be enough for most of you, but for those who want more, read here.
*Note: SMWW's Career Conference is not affiliated or any way connected with MLB, Minor League Baseball, or the Baseball Winter Meetings.
Scholarships
SMWW will award a limited amount of full and partial scholarships for each SMWW Career Conference. You must be 18 years or older to be considered. If interested, fill out an application and submit your resume and a one-page letter explaining why you should receive a scholarship to StudentServices@smww.com.

Scholarships do not include lodging or airfare. Those who have completed an SMWW Training Program will be given preference.
Internships
SMWW offers sports internship opportunities throughout the year in both our Portland, Oregon and Gloucester, England offices. Visit this page for more information. SMWW conducts interviews at SMWW Career Conferences.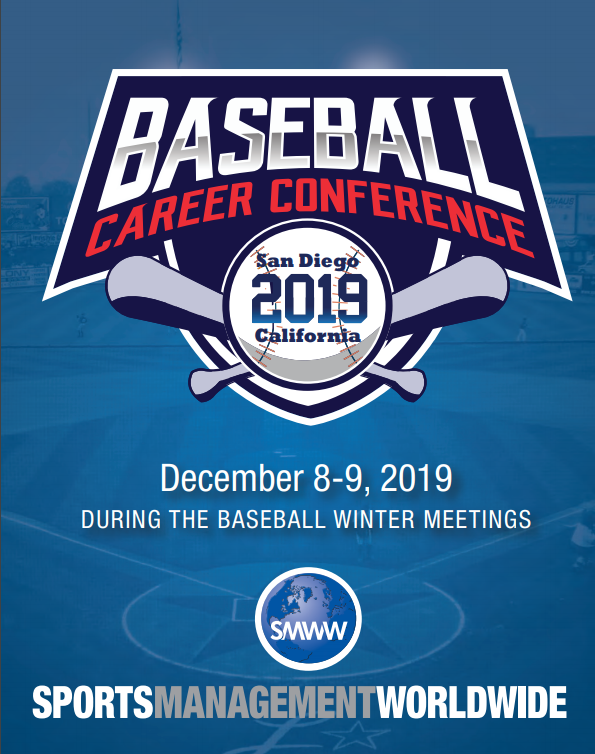 Note: Speakers are not guaranteed and will change. The closer we get to the date, the more speakers will know their team meeting schedules.