2019 Basketball Career Conference Recap
July 17, 2019 by
2019 Basketball Career Conference Recap
Another great year down in the desert of Las Vegas for our Basketball Career Conference has come to a close and it was without a doubt one of our best ones so far! The NBA Summer League and Sports Management Worldwide's Basketball Career Conference is one of my favorites and the crowd did not disappoint this year. The whole weekend was full-on networking, gaining new information on the Basketball Industry, career strategy, and creating memories at our conference and the Summer League itself. We had about 20 industry pros come by and speak to our attendees and were highlighted by Amin Elhassan of ESPN, Brian Hagen Assistant GM of the Chicago Bulls, Beth Hancock Executive Assistant to Basketball Ops for the Trailblazers, and Brett Richey CEO of BlitzPredict. We're always very grateful to all of our speakers who come and take the time to speak with young professionals who are looking to get their start in basketball.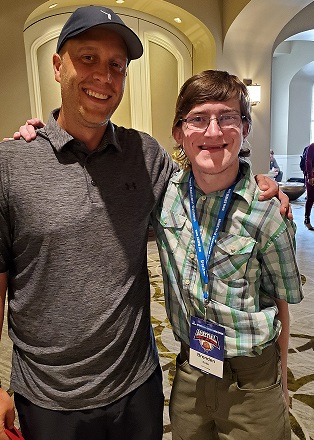 Things kicked off with a breeze at Bahama Breeze in North Las Vegas for our Welcome Reception where we had about 80 people check-in for the evening's event for a chance to meet their fellow attendees, our staff, and our great faculty who came by to mingle with those who were there. All of the attendees got to know each other and their passion not only for basketball but what they'd like to do in the industry and how they can get there. The group was very motivated to get started with a career in sports and basketball specifically, I had the chance to meet people from all over the US and the globe. We had attendees from Belgium, Australia, India, and Brazil among others and it's great to see just how far the game has reached with its audience.
Of the many Welcome Reception attendees who I got to speak with, so many of them were excited to be there and for the conference the following day.
"This is my first time at an SMWW event, and I have to say I'm really impressed with what I've seen so far. Space works really well for what we're doing, and I've met some really fun people here. I'm getting the chance to branch out and learn some really interesting sides of the business of basketball."
"I'm really enjoying my time at the Welcome Reception right now; I think it's great to meet everyone the night before and break the ice a little bit before we all sit down tomorrow for the conference. I'm excited to be able to hear from the list of speakers that will be there tomorrow, and I have a feeling I'll want to come back next year based on how things are going so far!"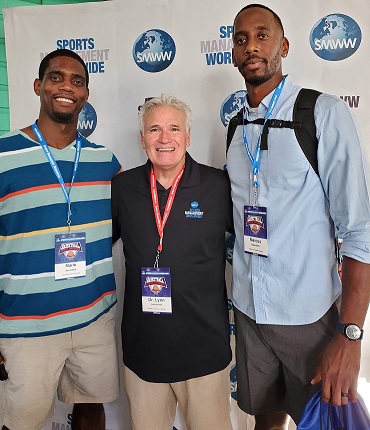 The Welcome Reception for me is always a great way for me to introduce myself as the President of the company and get to know a little bit about each of our attendees. It's important to me to make that connection and let them know they have a contact in the industry for when they're looking for advice or mentorship.
With the day of the conference finally upon us, everyone eagerly filed into our space at the Four Seasons in the Mandalay Bay. In total we had over 150 participate in the SMWW Basketball Career Conference this year. We opened with our Business of Sports Agency panel, featuring SMWW Mentor and NBPA Certified Agent, Bret Kanis, FIBA Agent, Max Raseni, and Dutt Sports Services President, Tony Dutt. These three gentlemen spoke on how the world of basketball agents works and what goes into scouting, recruiting, marketing, and handling players. After the questions wrapped up and the panel ended, we moved on to our next subject of money in the NBA.
The "How Money Talks" in the NBA panel saw Joel Corry of CBSsports.com and SMWW Mentor, along with Eric Pincus, Basketball Insiders NBA Salary Cap guru and B/R Reporter for the Lakers come to the stage to speak on the ever-changing atmosphere of money in the NBA. With TV deals always growing, marketing deals, jersey sponsors, and larger player contracts this panel was very in-depth about how money flows within the industry. The audience took to the topic and got engaged with the speakers through questions, looking to learn more on just how money moves through the Association and the sport.
Following the "How Money Talks" panel, Joel Corry stayed up on stage and we welcomed Ray Lebov, Basketball Intelligence Founder and Publisher to speak on The Changing Landscape in Sports Media. Both of these men have a long tenure in the media landscape and did a wonderful job speaking on how influential the media is within the game and how social media plays a big role within the lives of not only players but the fans, fellow media personnel, marketers and many more of those close to the game and its products. It was great having these two panelists as both Joel and Ray cover basketball and basketball topics on their online platforms, so to have the new media approach to this panel was very powerful. Moving on from the Media panel, we brought a little Las Vegas flavor to the stage to talk about Sports Betting.
With the recent repeal of the ban on sports betting, the industry has been booming lately and it was a must cover topic for this conference. Brett Richey, who is the CEO of BlitzPredict came on stage and spoke about how he got his start in sports betting, coming from a pro-poker background and transitioned into the Daily Fantasy Sports side of the betting atmosphere. He did a wonderful job speaking in detail about how the sports betting industry is taking shape state-by-state and how lucrative the business is quickly becoming for all sports. There were lots of questions from the audience on what to look for when getting started in betting on sports, what are some good recourses to learn from, and how can they start a career in that sector of the industry. A very interesting topic to talk about and I like sports betting is here to stay.
Our lunchtime speaker was Brian Hagen, Assistant GM to the Chicago Bulls and a wonderful person to listen to and provides a lot of knowledge on the business side of basketball. He's accumulated a multi-decade career in basketball and took the time to speak on his time moving up through the ranks of organizations, developing himself as a professional, and then taking the time to answer questions from the audience. He fielded a lot from the audience, who were eager to ask someone in his position about what they look for in entry-level candidates and how they can break away from the competition. He stressed the importance of hard work, showing growth in your roles, and doing all that you can to develop yourself as a professional that makes yourself appealing to a pro sports team.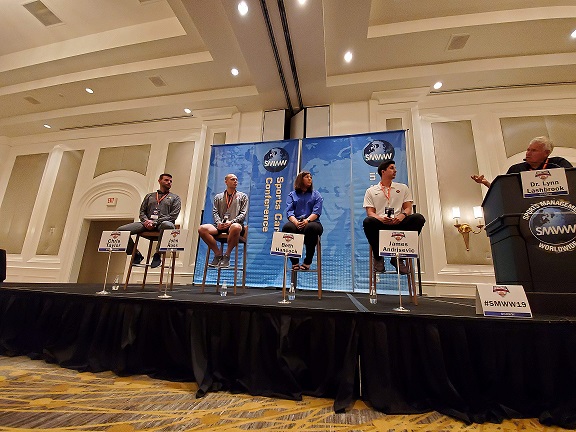 We brought up our Operations Panel which featured James Adrisevic, Assistant Coach of the Phoenix Suns' G-League Affiliate, Chris Taylor, Director of Operations for the Indian Pacers' G-League Affiliate, John Ross, Portland Trailblazers Personnel Video Coordinator and SMWW Alumni, and Beth Hancock, Portland Trailblazers Executive Assistant to Operations. A very fun panel that spoke on how basketball teams are run on the backend. Everything from scouting talent, putting together a game film for review, how teams go through trades, and what each of their roles entails with their current companies. Plenty of questions again came from the audience regarding getting their start and what do these individuals and their teams look for in entry-level positions and interns. Some very sound advice came from the panel and they were able to reflect on their time coming up as professionals into the industry and what they had to do to get their break. Operations play such a big role in a basketball team and can go unnoticed as it's done all behind-the-scenes but are crucial to the makeup of a successful organization.
We were very excited to have Amin Elhassan, a Basketball Analyst with ESPN and is seen frequently on ESPN's The Jump, Highly Questionable, Le Batard Show with Stugotz, and Jalen & Jacoby, come and speak with our conference. Amin was able to share a lot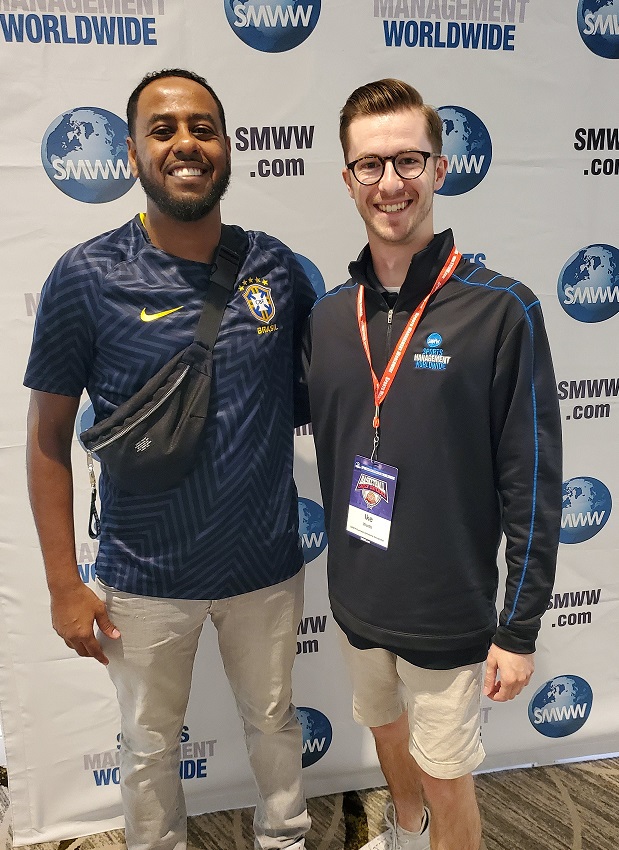 about his background coming from Sudan and speaking on his rise into becoming an Analyst with ESPN. Basketball is a passion of his and he wanted to pursue that passion to make a living from it. A fan favorite from the day, Amin saw a lot of questions from the audience on his thoughts on Free Agency, his colleagues on TV, how he got into his job, and what can those in the audience do to help further themselves in their pursuit of a similar career.
The innovation of analytics was our next panel up. Analytics is playing such a large role in a variety of sports, but basketball is one of those sports at the forefront of that revolution. We were very pleased to have Dean Oliver, who is the pioneer of basketball analytics and an SMWW Mentor and Ben Zirman, who serves with the G-League Analytics Liaison, and Ivan Seric, Philadelphia 76ers Data Scientist come and speak. Dean, Ben, and Ivana have lots of experience in the field of analytics and to parry their backgrounds on stage, with Dean being an integral founder of analytics, plus Ben and Ivan, analytics professionals who use those same tools on stage speaking about how important the role of analytics has become was invaluable. It's a complex topic but one that excites those in the audience about how scouting players has changed due to the influence of analytics and how the team changes their tactics due to the data their players produce. Attendees were eager to learn more from the three panelists and they had tons of questions for them all on the role that analytics plays within the sport.
As we wrapped up with our final panel, we welcomed Mark Silver, President of Synergy Sports Technology, and Carl Berman, Managing Partner of NetScouts Basketball and SMWW Mentor to speak on Learning the Second Language of Basketball. This panel followed very well behind the analytics panel, as Mark and Carl did a great job of explaining how the video can show what the analytics people are speaking about and how-to breakdown game film to get the most out of it. Once you know what you're looking for, the whole game changes. Synergy is the leader in their industry and is often referred to as the second language in basketball. The game tape has been a long-time staple of sports, and basketball specifically, but Synergy has been able to take that game tape and expand it 10-fold through their system and has led to their popularity amongst the NBA, G-League, and NCAAB.
The day ended in a success and we headed to the NBA Summer League to take in the basketball games and mingle with the attendees who came with us to watch and network with NBA Executives on the concourses between the two stadiums. The NBA Summer League is the only place in the world where you can watch 20 NBA Teams play in one day! My favorite memory from the 2019 NBA Summer League was seeing #1 Overall Draft Pick Zion Williamson, thrown down his signature earthshattering dunk, only minutes before an actual earthquake hit the Thomas & Mack Stadium!
Next year's conference will be back here in Las Vegas during the Summer League and we always look to improve upon the last year's conference, but we are very excited to come back and put on a great event that all are welcomed to and can benefit from. We hope to see you there next year!