The Various Types of Sales Careers in Sports
July 12, 2018 by
For years I've been talking about the main way to break into the sports industry: sales.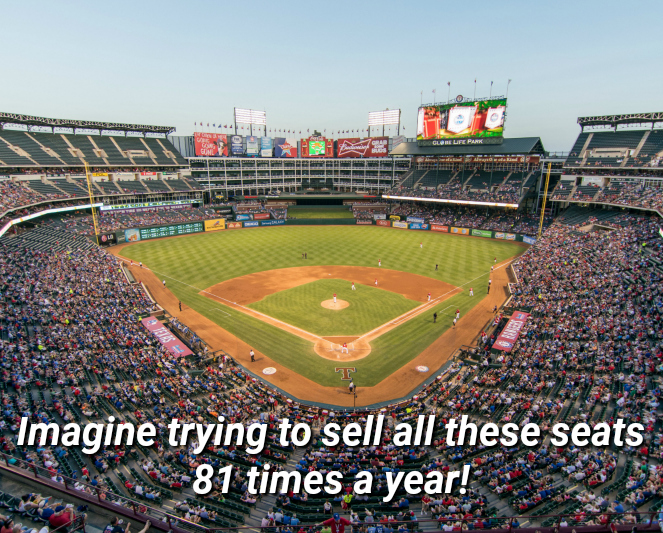 It's true, the vast majority of jobs in sports, whether it is in professional, collegiate or the minor leagues, is in sales. To go one step further, sales jobs are prominent at sports networks, sports websites, sports agencies, sports marketing firms…you name it, sales are the straw that stirs the sports business drink.
But there is some confusion in the sales game.
If you spend any time looking at job descriptions, there are jobs available as an inside sales rep, premium seating, sponsorship sales, corporate sales, group sales…the list goes on and on. So where do you start, and where can you go?
That is a great question! Let's break down the various types of sales jobs in sports, shall we?
Inside Sales:
Inside Sales (IS) is where most sales reps spend their first year. Most NBA, NHL and MLS teams hire between 6-15 new inside sales reps each season, while many MLB and NFL teams hire over 30 a year, sometimes as high as 70.
And that's just professional sports! There are inside sales reps in the various minor leagues and in college sports. Lots of opportunities out there.
Inside Sales reps spend their days trying to sell tickets to games or events, usually tasked with a list of previous buyers to call, or coming up with ideas to find new interested buyers. This particular job is like a tryout, many people come to play for a season but only a select few make it on the team full-time. There is usually a 9 month window to prove you have the goods to help the organization in sports sales.
At the end of the session, the highest producers usually get promoted into full-time positions on one of the ticket sales teams. If a full-time position isn't available, inside sales managers will do their best to place top producers on the full-time staffs of other teams.
Group Sales:
Rather than selling individual tickets, people in group sales look to entice large groups of people to attend a game together. Cub scout troops, schools, church groups, organizations, conferences – selling to large groups is a faster way to a sell out!
These jobs are about creative marketing, how can you explain the value of attending an event to their group, and furthermore, surround their group with a larger experience.
As one friend in the sales world always reminds me, "sales isn't about the team winning or losing, it's about the experience at the arena." After mastering the art of inside sales, group sales is often a logical next step in a sales career.
Premium Sales:
Another job related to attendance and tickets, this is the big swingers club. Someone just starting out in the sports industry isn't prepared to speak to a major organization about buying a very expensive suite for a game or a full season, it takes a seasoned practitioner to close an expensive deal with a big fish.
Usually the person able to close premium deals has spent years building a relationship with a high profile organization. This isn't a cold calling job.
Think of it this way, many businesses buy a suite to entertain their clients. A fancy night in a suite at the Warriors game can loosen up some deal-making hesitation! That means it's the big wig sales people who are often booking the suite in the first place and needing to be sold! When you work in premium seating, you are likely negotiating with other seasoned sales people who know all the tricks.
Only seasoned sales people need apply to this job!
Sponsorship or Corporate Sales:
Now you are out of the ticket game and into the signage or product game. You are selling in-arena exposure. Maybe it's a sign on a concourse, a sponsorship of a halftime event, the mascot's routine, a club in the arena - there are plenty of things to sell that aren't tickets! Attaching a local or national businesses name to something within the arena, or naming rights to "the official team Whiskey", is a huge job with high upside.
This is a creative marketing job – you will be presenting research, ideas, concepts and projections in order to help convince a business to invest in your product.
Have a new pre-game event or a radio studio that is screaming out for a sponsor? Have an opening for the team training facility or preferred sports drink? Well, you need to be armed with data and research to make your pitch to local and national businesses.
Final Thought
Here's the big thing to keep in mind – no matter what role you want in sports, remember, you are always in sales. You will always be selling yourself as the best candidate for a job. Your resume, cover letter and LinkedIn profile are all sales pieces and they all need to be flawless, well researched and articulated.
Whether it is your job to sell tickets or sponsorships, or something completely different in sports, you'll always be selling yourself so learning the principles of sales will help you in your sports career. Also, many of the high level executives in sports have a background in sales because understanding the flow of revenue and how instumental it is to have plans and strategies to grow the bottom line is vital the the health of an organization.
That gives you a pretty solid look into the various types of jobs in sports sales – now register for our Break Into Sports 8-week online course taught by Greg Hylton Indianapolis Colts VP of Premium Seating and get yourself in the game!