How do you identify a leader?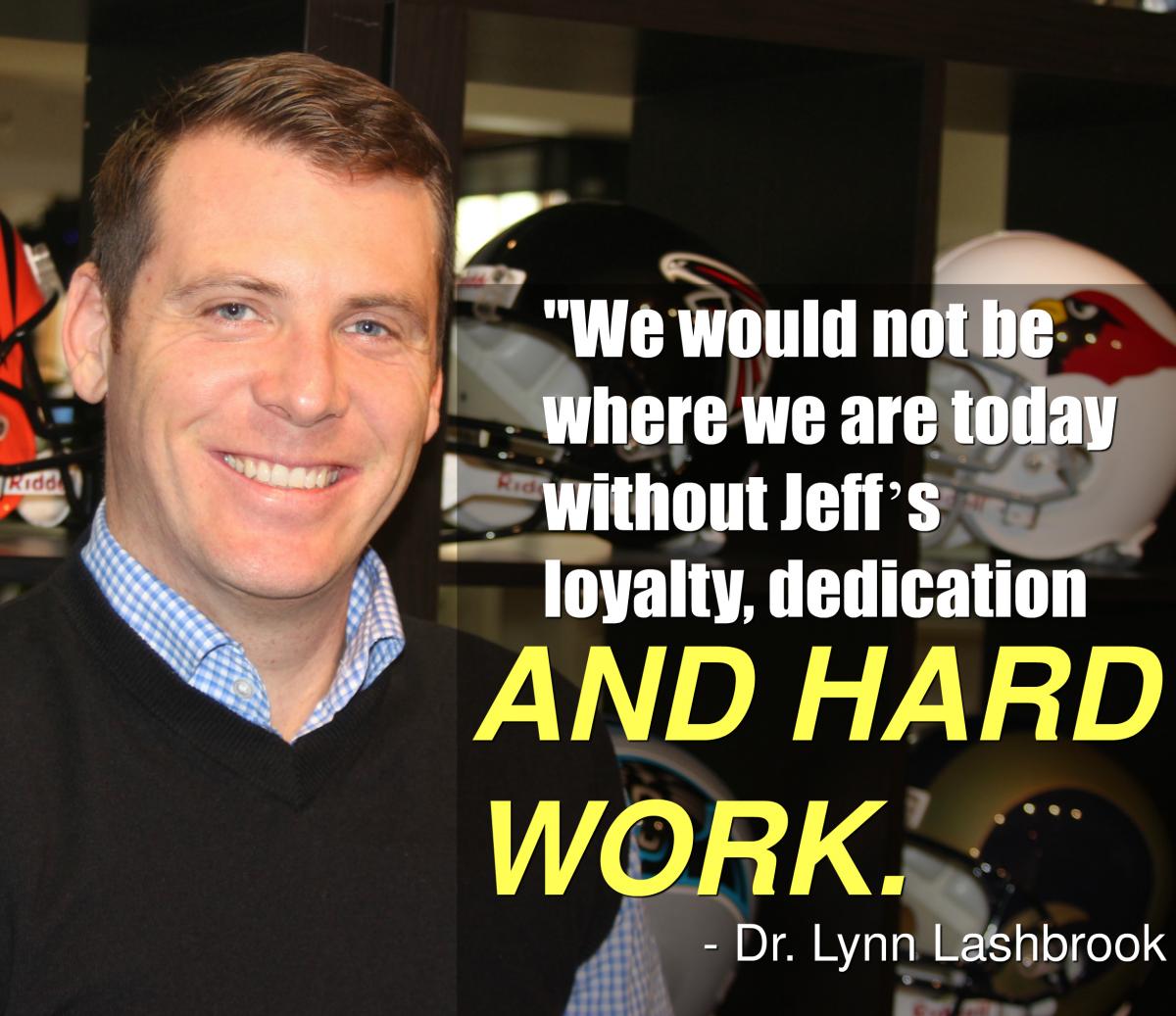 Many attach the term to the loudest person in a room, the one who shouts and hollers and commands attention.
Others pinpoint the person with the boldest personality and believe they are the leader, the near gravitational pull of their persona bringing people closer and closer.
All that is possible. Maybe those are the defining attributes of a leader.
But in my experience those personalities burn bright for a moment, but can't control the room very long. They don't last.
True leaders are a different breed, content to work quietly in the shadows and often on a much more personal level. They take the time to know their people, what motivates them, why they might seem down, when they need a kick and when they need a hug.
These rare breeds don't seek out the spotlight, instead they selflessly look to help others around them achieve it.    
Nowhere is that more evident than in one of our own, our VP of Operations Jeff Brodie, who this summer celebrated his 10 year anniversary with Sports Management Worldwide.
A graduate of Oregon State University, who earned his MBA with an emphasis in sustainable business from Marylhurst University, Jeff has been a leader in our organization since his first days in 2008.
We would not be where we are today without Jeff's loyalty, dedication and hard work. During his time with us he has helped thousands of people find their dream sports job, while working to better himself.
He has earned his MBA, and both his NFLPA and NBAPA certification while representing multiple NFL clients and helping our students grow. All of his actions are in the name of serving others.
"Every phone call with Jeff seems like I'm talking to a friend, or someone who knows me personally," says NFL agent and SMWW alumni Jason Staroszik. "Every voice message and every email has always been returned very promptly, even on his days off when he is out of the office. Jeff cares about his client's needs and concerns, and also reflects positively on SMWW. If the world had more workers like Jeff, things would get done a lot faster and friendlier!"
It is my great pleasure to commend Jeff on all he has accomplished, and all he will accomplish in his bright future.
I can't wait to see what he does next.