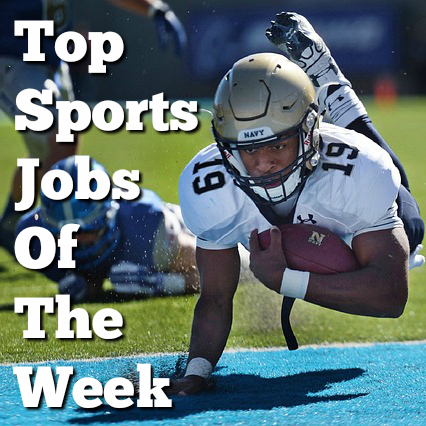 This is the best time of year for sports fans, turn the dial any night of the week and you are bound to bump into some live sports action.
Just last night there was 10 NHL games, 5 NBA games, a color rush NFL game, an important College Football game between Louisville and Houston and free agent news from MLB. Not to mention World Cup Qualifying games earlier this week and more Premier League this weekend.
You just can't beat this time of year for sports! With that enthusiasm for the season, here's another glimpse into who is hiring for sports jobs this week:
Game Night Presentation Assistant - Cleveland Monsters
Formerly the Lake Erie Monsters, the now Cleveland Monsters are a professional hockey team competing in the AHL and affiliated with the Columbus Blue Jackets. The team is looking for a Game Night Presentation Assistant, which is a great way to get an inside look at how a team operates and how game night functions as an event. Hockey students, this is a good way to get in the business of professional hockey!
Here are the main requirements:  
Review Director's Game Production Script & write up assignments for Promotion Team.  Oversee facilitation of promotions and general interaction with fans  by promotion/dance teams as point person on concourse/in the bowl.
Manage game night responsibilities of the entertainment teams with fan engagement and guest satisfaction as main focus.
Serving as "Floor Manager" for all home games & direct all in-game promotions in the bowl and on the ice, as needed.
Organizing needed props pre- and post-game
Managing logistics with anthem performers and other group activities
Prepping and clearing the game night performers locker room
Demonstrate a positive attitude among staff and part-time crew members to keep the energetic spirit of game entertainment a priority.
Think on feet but react calmly & quickly in the pace of a "live show" to manage last minute changes or unforeseen situations.
Communicate and lead effectively among all entertainment team members and building crew members.
Demonstrate an interest or capability for game production development, scripting and directing a live event.
Ticket Services Coordinator - Portland Timbers
One of the most exciting teams in the MLS is looking for a new Ticket Services Coordinator, and from what I hear the Timbers are the best ticket in town so this will be a fun job!  Our Breaking into Sports and soccer students are ready for this opportunity:
The Portland Timbers is looking for self-motivated, personable and organized coordinator to join our Ticket Services team. The ideal candidate is self- sufficient, diligent with details, has a strong work ethic and a service mindset who is driven by meeting and exceeding aggressive sales and service objectives. We are looking for someone who is a team player with the ability to handle multiple assignments in a fast-paced environment as well as handling customer complaints with ease and grace. If you have a service-oriented and competitive nature and are not afraid of outbound calls, this could be the job for you! The Coordinator, Ticket Services position will report directly to the Sr. Manager of Ticket Services.
Promotions Associate - Erie SeaWolves
Baseball season may be over, but teams in both the minors and majors are getting their staffs in order now for the upcoming season.
The Erie SeaWolves, the Double-A affiliate of the Detroit Tigers, are looking for a confident, dedicated student who is interested in earning credit hours by completing a seasonal learning opportunity in game day entertainment and community outreach.
The Promotions Associate will be mentored by the Director of Entertainment and the Community Engagement Manager.  The Associate will participate in training sessions, learn best practices, gain experience with game day promotions and community affairs programming, and participate in special event planning and execution.
Guest Services Representative - Columbus Blue Jackets Arena Management
Hockey fans, this one's for you! Guest Services Coordinator for an NHL team – what a great career stepping stone:
Assist guests at Nationwide Arena during sporting and entertainment events, conferences and other events, while maintaining high-quality customer service standards including, but not limited to, greeting, ushering, and ticket taking.
Essential Duties and Responsibilities include the following:
Check tickets to validate seating section; assist guests in finding their appropriate seats.
Assist patrons with locating specific areas in the arena which include, but are not limited to, restrooms, first-aid stations, elevators, concessions and merchandise areas.
Examine tickets for authenticity, then scan or collect tickets from patrons for entry.
Provide assistance for individuals with special needs or disabilities, such as helping those in wheelchairs.
Alert Event Command and supervisor, using the usher pager system, about health or security issues as they arise.
Director, Events - Major League Soccer
Major League Soccer grows in popularity season by season, and heir events get bigger and bigger. Thus the need for a director of events - check this one out soccer managment students:
The Events Department is responsible for creating big, buzz-worthy moments throughout the calendar for fans and a range of constituents (clubs, commercial partners and broadcasters).
We support the development of our existing tent-pole events including All-Star, MLS Cup, Rivalry Week, Decision Day, March to Soccer, etc., as well as the development of new event platforms. Additionally, we work closely with internal client groups to create engaging top tier hospitality experiences for our various audiences, as well as supporting cross-department initiatives including press announcements, department/executive meetings, competition events and strategy projects.
Intern, Media Relations - New York Yankees 
Intern with the New York Yankees – need I say more?
Compile and distribute news clippings pertaining to the New York Yankees, Yankee Stadium and baseball from all of New York metropolitan area newspapers, magazines and websites
Maintain organize and complete files of all news clippings, briefs and stories involving all New York Yankees players, coaches and front office matters
Amicably respond to requests from fans and members of the media involving questions about Yankees' history, statistical information, or other general matters that need attention
Organize and update files of various team publications, media guides, game notes, postgame notes and scorecards
Assist with media at home team practices and during road games
Ticket Services Representative - Kansas City Royals
Baseball and Break into Sports students, here's the chance to fulfil your dream of working with one of the youngest and most exciting teams in baseball:
This position will serve as the initial day-to-day contact for the Kansas City Royals fan base, including general fans, single-game ticket buyers and season ticket holders. Representatives are responsible for resolving all inquiries in a positive manner, exceeding customer expectations and providing interaction that is reflective of a model professional sports franchise.
Home Clubhouse Manager - Salem Red Sox
Let's make this clear – not a glamourous job, but if you are looking to break into baseball sometimes you have to do some dirty jobs. The good news about the minors, the more you can do, the more you'll be allowed to help. Get in the door with a job like this and the next thing you know you'll be helping with operations, sales, marketing – you name it:
This position is a full-time seasonal job that is exhausting but very rewarding. The Clubhouse Manager has the potential to make a nice income over the short course of our 70-game season. Being a Clubhouse Manager allows freedom to create your own work schedule and cleaning routine. The Clubhouse Manager must be at the clubhouse at the same time players and coaches are to address uniform, equipment and home team issues. The Salem Red Sox have pride in the service they provide to the fans that enter the gates and we expect the same service to the home team and the visiting team staffs. Customer service has become a more intricate role in our organization with providing the best atmosphere and service to the existing teams in the Carolina League.
Fan Services Manager - Sporting Kansas City
Winning helps sell tickets, but so does the experience fans have at the ballpark. Help make a great experience for fans of Sports Kansas City as the Fan Services Manager:
Sporting Kansas City's Fan Services Manager helps to develop, lead and maintain a program that fosters the ultimate experience for all Sporting Kansas City guests.
Essential Functions
Provide the highest level of service and establish expectations for the Guest Services Team, as well as continuously pursue the next level of service by developing and coordinating additional service behavior programs designed to enhance relationships with all guests, vendors and partners.
Continuously research guest services options, studying what other organizations are doing and identifying best practices.
Lead the Transportation Coordinator and assist them with developing Children's Mercy Park's event day parking plan.
Marketing Associate - Houston Rockets
And finally, a Marketing Associate job in the NBA with the Houston Rockets – start small, finish big!
This program provides part-time seasonal opportunities for interested individuals to assist our Team with game presentations, promotional events and activities and gain exposure to sports industry event planning and execution. 
Essential Responsibilities:
Demonstrates our One Team philosophy of Passion, Accountability, Customer Focus, and Teamwork. 
Assist the Promotions Department with Rockets game day activities and set up including the concourse, ticket holder events, corporate obligations and fan interactive elements.
Assist in execution of the Rockets Corporate, Community, Ticket Sales and Team Marketing Events and Promotions
Assist in execution of outside events at city festivals, trade shows and other public events.
Periodically assist Promotions Department with office work
Other duties assigned by supervisor.
That's it for this week - there are thousands of more jobs out there in the sports industry, this is just a small sample of some of the jobs that stuck out to us. Tune in next week for more!