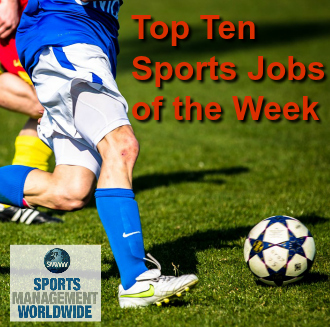 This is the best time of the year for sports. Basketball and Hockey are about to start, Baseball is in the midst of its championship run, Football is rounding into mid-season form and soccer is manning the pitch around the globe.   
Everywhere you turn, sports are in action! Are you feeling the excitement? Well, so are we. Later this month we head to London for our annual Sports Career conference, only a few seats remain so now is the time to act if you are mulling it over.
In the meantime, we're keeping an eye on the best sports jobs out there – here are 10 that caught our eye this week:
For Soccer GM & Scouting students here is a great chance to get in the front office of an MLS team as a Marketing strategist.
The Sporting Kansas City Marketing Strategist is responsible for the planning, development and implementation of all marketing strategies, marketing communications and branding, both internal and external.
 Sticking with the Kansas City area, here's a great opportunity to get in with one of the premier teams in Major League Baseball, the Kansas City Royals. Sports Revenue Management students and graduates would be great for this job!
The Ticket Operations Coordinator will play an essential role in the daily operations of the Ticket Office. Reporting to the Ticket Operations Manager, the Coordinator is responsible for providing support to fans at the box office and assisting the Ticket Sales and Ticket Services departments with various initiatives. Other duties will be assigned as necessary.
Minor league hockey is a great place to get your feet wet in the industry. Minor league staffs tend to be smaller, which means everyone on staff has to wear multiple hats and show versatility. For any of our Hockey students or Sport Revenue Management students, this could be a great match.
The Utah Grizzlies enter their 22nd season in Salt Lake City, Utah and 2oth season playing at the Maverik Center.  We are a proud member of the ECHL, the premier AA hockey league.  In this fast-paced, competitive, and fun culture we are looking for future sales and marketing leaders who want to be a part of something special and continue to grow their careers in the sports industry.  This position will be focused on working with the Director of Corporate Partnerships to renew and upsell current corporate partners as well as generating new corporate partnerships.
Sports Administration, Masters and Doctorate students and graduates this one is for you. If you have experience in the operations of athletic departments, this could be the step up to Division 1 you've always wanted.
Must have a basic knowledge of accounting and ticketing. Specific knowledge of athletics events protocol, video streaming, athletic facilities and Division I guidelines. Must maintain effective, positive relationships with students, parents, faculty, staff and the general public.
Experience with athletics event management and customer service. Bachelor's degree highly preferred, diploma and equivalent amount of experience required. Master's degree in area is also preferred. Candidates with an equivalent combination of experience and/or education are encouraged to apply.
Are you seeing a trend here? Our Sports Revenue Management course can really help you get your foot in the door of the sports industry.
Do you want to know what I recommend? Take the SRM course. It'll really help you get a job in the sports industry. YOu can always take a specialized course in Basketball, Baseball, Hockey, Soccer, Football Rugby or Cricket to learn more about the business of those particular sports as well.
Our students that take SRM and pair it with one of our GM & Scouting courses have the greatest success because they know what teams need! Anyway, on to this job.
Columbus Crew SC is committed to developing future sales professionals and leaders in our organization and the sports industry. Crew SC is seeking Sales Representatives to join our Inside Sales Department. The opportunity includes initial training and on-going support from successful professionals in the industry and potential for advancement.
If you are interested in beginning a career in Major League Sports, have a willingness to learn and drive to excel, we can provide a solid foundation of skills that can lead to success within the Club and beyond.
What an incredible opportunity for any of our Sports Administration, Masters or Doctorate students to take the lead of the business side of a major college athletic program.
The Business Manager is responsible for the oversight and daily management of the athletic department business office and the department's budget, which includes all income, expense, and unrestricted and restricted fundraising accounts. Approve all expenditures to be consistent with Boston University, conference and NCAA policies. Oversee a zero-based budgeting process to forecast the long-term trends of the department and develop the annual budget proposal submitted by the Director of Athletics each fiscal year.  Help manage the department's revenue generation opportunities, including but not limited to ticket sales and facility rentals.  Work with the Athletic Development to coordinate fundraising opportunities and capital projects with budget needs. Reporting directly to the Deputy Director of Athletics, manage two full-time staff members and operations of the business office to ensure fiscal responsibility, compliance with policies in accordance with accepted auditing procedures, University policy, and business practices while working toward providing a first-class experience for all student-athletes. 
This isn't a direct match for any of our analytics courses, BUT, if you've taken our analytics courses you have an affinity for data mining and research, which this job is about.
The Research Coordinator is responsible for supporting the NBC Sports Group research team with data analysis for Programming/Scheduling, Consumer Marketing, PR, Finance and Sales Planning. This role also provides administrative support to the overall research department including both linear TV and Digital functions. 
Provide detailed analysis of Nielsen audience data, highlighting the performance of NBC Sports Group and competitive sports networks including analysis of both local and national audience data. 
Submit daily program lineup information to Nielsen for ratings processing 
Maintain upkeep of standardized reports 
Manage distribution of daily reports, including occasional coverage for weekend special events 
Provide departmental support including maintaining meeting schedules and other administrative functions 
Responsible for professionally answering phones, preparing all correspondence and coordinating calendars, including meetings and appointments 
Coordinate travel arrangements 
Assist when appropriate in preparation and drafting of documents and presentations 
Monitor and report audience deliveries vs forecasts 
Provide personal assistance on various projects and activities for the Research department 
Internships are the pathway to jobs, and if you want to work on the business side of basketball this is an opportunity you should be interested in.
The Greensboro Swarm seeks an energetic individual to support and learn from members of the Coaching and Basketball Operations staff with daily team operations and logistics. Dates for this internship are from January 2016 through April 2017 (two semesters), candidates must be available to work home games and practice days.
Duties to include
Assist coaching staff with player development, rebounding, and drills in practice.
Work with the coaching staff to prepare scouting reports and video for analysis on opposing teams and players.
Help with charitable and community events with our players and coaches.
Work with Basketball Operations staff on managing team equipment (must be able to lift 50lbs.).
Help Basketball Operations staff with player personnel, database management, and other operations tasks.
Support basketball operations staff with preparing the facility, court, and equipment/gear for practices and games.
This may sound familiar… but internships are the pathways to jobs and if you want to work on the business side of basketball this is another opportunity you should be interested in.
Time Warner Cable Arena, home of the Charlotte Hornets, is seeking an energetic individual to support members of the Basketball Operations staff with daily team operations and logistics. The pursuit of a degree in sports management/sports medicine, or the desire to pursue a career in the sports industry is preferred. The position is unpaid and the student must receive academic credit. Hours vary – must be available for most Hornets games throughout the semester that may occur on evenings and/or weekends.
ESSENTIAL DUTIES AND RESPONSIBILITIES
Provide administrative support to Hornets Basketball Operations staff.
Assist Basketball Ops equipment manager and staff with various department related projects.
Proficiency in Microsoft Office Suite of programs is required along with a general understanding of basketball.
Arranging and securing tickets/credentials for all scouting staff members
Build relationships with college and NBA representatives
Arranging the travel for any new players or free agent meetings
Build relationships with agents and player representatives
Assist on Player Programming Events
Interaction with players, coaches, and other organization members
Game Day Walk-throughs
Assist in sports psychology meetings and project
Various interaction team partners
Continuous work with the database
Administer and input data from psychological testing
Access to outside companies/brands
Expending general BBIQ
Coaching at the Next Level and Sports Administration students will love this opportunity to run the Sports Camps at a major university!
The Assistant Director of Camps is part of a team that is responsible for the oversight, administration and enhancement of a comprehensive sports camp program which serves nearly 10,000 campers annually and employs over 800 camp staff. This position serves under the general supervision of the Director of Camp Administration and assists in the overall planning and logistics of administering all athletic department camp operations.
The individual in this position will be responsible for the overall design, development, implementation, maintenance and end user support for a division-wide web-based camp management system supporting automated event management, registration management, resource management and personnel management. The incumbent will work closely with individual sport personnel, Athletic Business Office and Human Resources management and staff to ensure that all business needs of camp administration are being met by the implemented technology.
This position will be responsible for all system updates, patches and upgrades and also serving as the primary Tier One help desk technician for all end users. This position will assist in the management of camp administrative functions to ensure compliance with NCAA, Campus and Athletic Department policies and requirements. The position serves as the liaison between the Athletic Department and the general public for camp related questions.
That's it for this week – come back next Thursday for ten more great sports jobs!