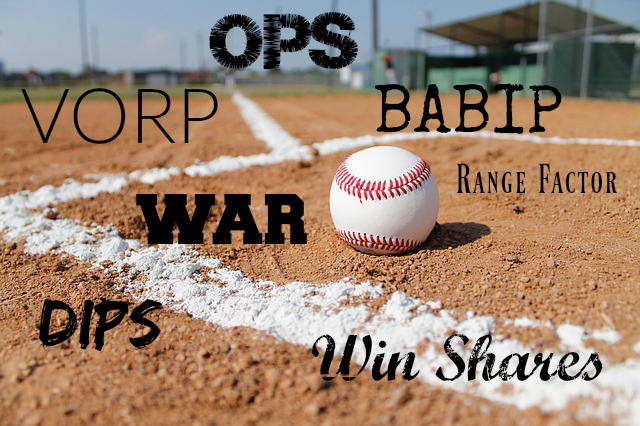 Since the dawn of baseball time, the box score has been the numerical representation of on field action.
If you couldn't watch a game live, it seemed logical that by absorbing the available data points like RBI and ERA you could still determine who had the greatest impact on the outcome.
If Reggie Jackson went 1-4 with 2 RBI in a game, you could, without much thought, conclude he had played well and positively influenced the game. If Justin Verlander pitched 6 2/3 innings gave up 3 hits, 2 BB and 3 ER with 9 K's, you would assume you had all the data necessary to determine he pitched well.
For many, this over-simplified system of analysis was inherently flawed.
Bill James is credited with the statistical revolution in baseball, beginning with his Baseball Abstracts in 1977 which eventually turned into the creation of Sabrmetrics, but there are others. John Thorn and Pete Palmer popularized OPS in their 1984 book the Hidden Game of Baseball, while Dick Cramer's seminal article on clutch hitting, published in the Baseball Research Journal, continues to open eyes.
Even the backs of baseball cards, the comfortable haven for dinosaur baseball statistics like RBI and ERA, began adding OPS as a category back in 2004, because everyone wanted a better way to analyze player performance. Not just GM's and managers, the fan at home playing fantasy sports and the gambler in Las Vegas wanted a better wheel.
When teams realized this deeper analysis could lead to more wins and higher revenue, everyone wanted in.
"More and more teams, collegiate and professional, are developing and expanding their in house analytic staff," explains Dr. Lynn Lashbrook, President of Sports Management Worldwide, which offers multiple classes in sports analytics. "For example, there are 302 NCAA Division One Baseball teams. Of those 302 teams, about ten has someone on staff who does baseball analytics. Our research shows, that most all teams will employee at least one analyst in the very near future.
"People don't always understand the breadth of baseball analytics, when our analytics course mentor Ari Kaplan (pictured, right) was charged with leading the Chicago Cubs analytics department, his work wasn't just in player evaluation, his tasks included roster strategy, forecasting, advance scouting, player/coach game preparation, Minor League player development, MLB draft analysis, international arbitration, financial modeling, budgeting, marketing and community outreach. All from manipulating available data!'

If the dawn of baseball analytics was the late 70's and early 80's, the true stranglehold of statistical influence came in the 2000's as teams like the Boston Red Sox, Oakland A's and Tampa Bay Rays changed their entire system of player evaluation and team strategy to focus on the numbers, rather than the gut feeling and instincts that have guided many a scouting department.
"I think the discovery of new analytics is never ending. I think there will always be things to research, always new discoveries that we make in baseball alone, let alone all the other sports," says John Dewan, founder of STATS Inc., Baseball Info Solutions and the authority on defensive statistics in baseball.
The average salary of a major league baseball player rose to $4.4 million per year in 2016, which means MLB teams average $132 million in salary for just the 25 players on their active roster. Analytics are one of the main tools teams use to ensure their money is being well spent.
In the business world, companies of all sizes have been using data to help them make decisions since the days of Rockefeller and Carnegie. Analytics is standard operating procedure in business, and yet in sports, the process of dissecting data to become the foundation for planning and strategy is a new and developing frontier. 
"The opportunities in all sports in regards to analytics is growing so rapidly, the opportunities are unlimited," according to Dr. Lashbook. "Technology has opened the door for infinite analytic advancement. Analytics is one of the fastest growing jobs types in the market according to our research. Organizations are hiring now. This is a new career path with vast potential"
Teams at all levels are improving their ability to evaluate players, make decisions on personnel and game plan by taking a fresh look at data. The field continues to grow and change, with the integration of video analysis, defensive statistics and health analytics the advancement of baseball through data manipulation has no end in sight.
"My advice to anyone wanting to break into baseball from an analytical point of view would be: Do not limit your studies to baseball alone," advises John Thorn, Major League Baseball's Official Historian. "Learn everything you can about the wide world and think about how baseball might connect to it, or how it might connect to baseball. I think if there is a royal road to success in baseball, it's in knowing a thing or two about the wide world."
And leaving your box score at home.