It is my sincere pleasure to announce Tim Mead, Los Angeles Angels VP of Communication has joined the SMWW faculty and will begin mentoring our Sports Media and Communication online course starting October 22nd.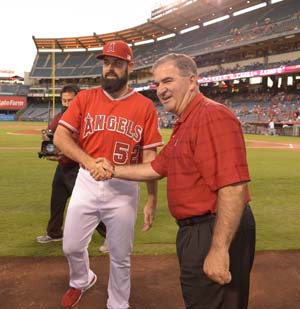 Over his 38 years in the Angels organization, Mead has grown from being an intern in the public relations department to various organizational roles including Director of Media Relations, Assistant VP of Media Relations and Assistant General Manager.
 "As I sit here I still don't feel I've worked a day in my life," says Mead. "If anyone can have that feeling like you truly feel like it's a blessing, and it's not really work, then you will have a good professional aspect of your life."
Mead and his staff have been responsible for the handling of media during the Angels' 1986, 2004, 2005, 2007, 2008, 2009 & 2014 postseason appearances, the 1989 and 2010 All-Star Games at Angel Stadium and the Halos memorable World Series run in 2002.
There is no one more experienced to teach you necessary skills to thrive in public relations, sports communications, content creation, new media, promotions or marketing. You need to learn the communication skills sports executives seek, and Tim Mead is just the person to teach them to you.
"In sports you have a chance to be a part of, or be around history, every day of your life, and no two days are alike," says Mead. "I look at that as a blessing, I really do."
We look at it as a blessing to add Tim Mead to our outstanding faculty.
Register now for Sports Media and Communication course, and learn from one of the best in the sports industry.