The love for sport in India is growing rapidly. Far more than just the game of cricket, a passion for additional sports has resulted in the growth of viewership, participation, and sports-related
industries across the nation.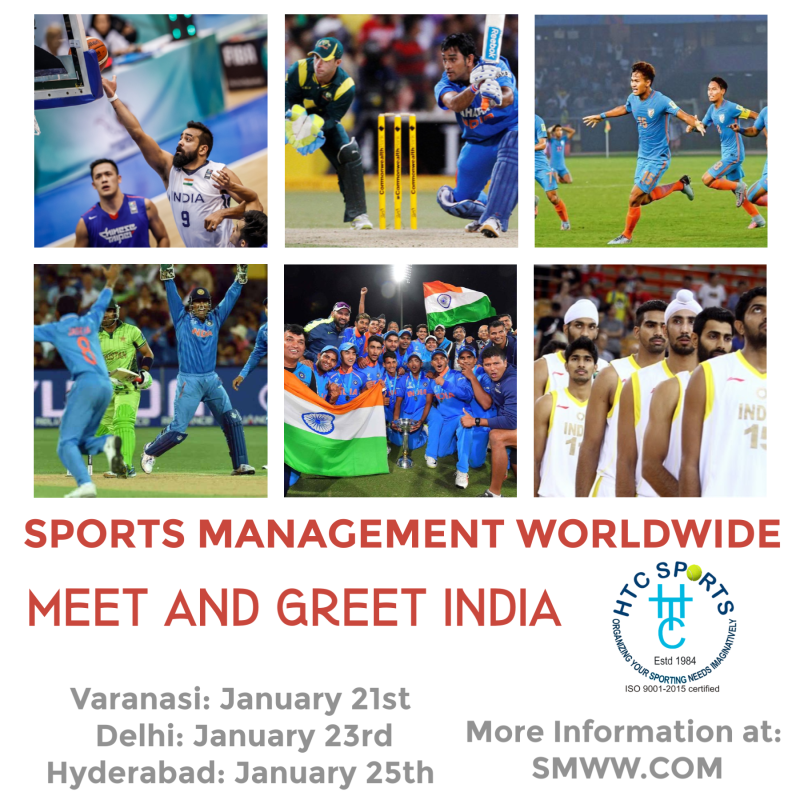 Career prospects in the sports industry are growing as well including in apparel, team management, scouting, talent management and more.
Which is exactly why we are headed to India this month!
At SMWW we wanted the opportunity to meet face-to-face with the talented people of India, learn more about the needs of the people, and share how SMWW can help train sports career minded people for jobs in their emerging sports industry.
We will host three Meet and Greets in partnership with HTC Group in India:
Varanasi - 21 January 2019 - Delhi Public School in Varanasi, 8:45am - 10am
Delhi - 23 January 2019 - R K Khanna Tennis Stadium, 16:00 - 19:00
Hyderabad - 25 January 2019 - Dehli Public School in Hyderabad, 16:00 - 19:00
Geared exclusively for sports business-minded students, faculty, sports business executives, and those interested in breaking into the sports business world, this is a once-in-a-lifetime opportunity to hear Dr. Lynn Lashbrook, founder and president of Sports Management Worldwide share how you can get a job on the business side of sports. 
As an extra bonus, Hemanshu Chaturvedi, founder of HTC Group India's leading sports organization with an unparalleled record of sporting excellence and programs for students, staff, and the community, will join Dr. Lashbrook as part of our sessions.
As the sports industry continues to grow in India, there will be more and more opportunities for careers:
Indian Premier League (Cricket), Hockey India League, Indian Badminton League, Pro Kabaddi League, and Indian Super League (Football) are experiencing rapid growth. League jobs will be added at all levels.
Athlete salaries are rising, and qualified, experienced sports agents are needed.
Careers in Stadium Management, Event Management, Fan Entertainment, Sponsorship & Ticket sales will continue to advance.
Increased viewership will change the job outlook for sports analysts, sports broadcasters, and sports journalists, sideline reporters, etc.
Talent evaluators and scouts in all sports will be needed in addition to evaluators who understand how to use the appropriate digital video editing software.
Click here for more information on how you can attend one of our India Meet and Greets and learn from two pillars of the global sports industry!