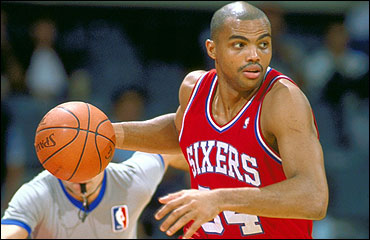 An entire generation of basketball fans know Charles Barkley not as a dominant force in the NBA for 16 seasons, but rather as a TV character willing to blurt out criticism of anyone and everyone on his Inside the NBA studio show.
The "Round Mound of Rebound" is, at this point of his career, best known for his controversial and wide ranging statements covering anything from Kanye West to Lebron James and the current watered down league that allows Steph Curry to be the first ever unanimous MVP.
But one of his more famous rants was regarding his disdain and outrage for the emerging role of analytics in basketball.
"Those who believe in analytics are idiots," claimed Barkley while taking a swipe at Rockets General Manager (and noted analytics junkie) Daryl Morey. "What analytics do the Spurs use?" added the Chuckster.
Barkley's role in the archetypal jocks vs. nerds theme is ironic considering the sabermetric inspired algorithm Player Efficiency Rating (PER) is one of the few metrics that gives him the career kudos he probably deserves, ranking him as the 11th best all-around player in NBA history ahead of regular top 10 stalwarts like Kareem, Oscar, Larry and Magic.
Then again if irony was his only misstep this would be just another in a long line of entertaining moments from the crazy uncle Barkley has become.
But his assertion about the Spurs commitment to analytics is just flat out wrong. Under Gregg Popovich the Spurs rely on analytics as much, if not more, than any other team in the NBA. They were one of the first teams to use SportVU player tracking, are leaders in health analytics, and have adjusted their offense and defense to follow statistical evidence of what works best. With five championships in 16 seasons it's working pretty well I'd say.
In fact, all thirty teams in the NBA have at least one person on staff dedicated to the analysis of team and league data with the sole purpose of creating a more efficient operation and philosophy. Analytics is the most powerful trend in the NBA, and yet there aren't many schools teaching this new age methodology.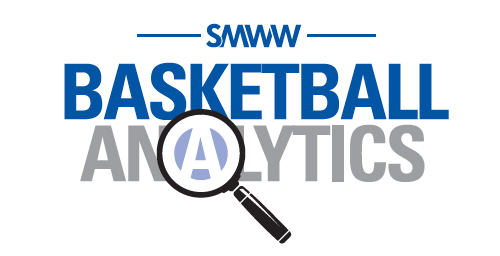 "Sports analytics is one of the fastest growing job types in the market, according to our research. This is a new career path with vast employment potential" says Dr. Lynn Lashbrook, President of Sports Management Worldwide. "Dean Oliver is the pioneer of basketball analytics, starting with his seminal book Basketball on Paper, and continuing with his career with the Seattle Supersonics, Denver Nuggets, Sacramento Kings, ESPN and others," continues Dr. Lashbrook. "When we set out to develop and design a course teaching the fundamentals of basketball analytics, we knew we wanted Dean to lead it."
If coaching helps you get a group of people to stretch beyond their current abilities, analytics is the ability to get them in the right place, doing the right thing, at the right time. A basketball savant like Popovich isn't being replaced by spreadsheets and flow charts, instead his coaching instincts are enhanced and emboldened by the data.
At the 2013 MIT Sloan Sports Analytics Conference Spurs General Manager R.C. Buford explained how Popovich embraced the statistical revolution in the NBA: "I think Pop got interested when he saw areas that weren't traditional basketball philosophy that were important to him supported by the data. He started asking different questions."
And that is when analytics is at its very best, when organizations marry data with instincts to form an efficient system that be replicated, trained, and ingrained within a team and organizational philosophy. 
The 8-week online Basketball Analytics course taught by Sports Management Worldwide is the first of its kind, teaching the nuances of player metrics, how to obtain and manipulate data, communicating complicated information to decision makers, the analysis of coaching decisions, personnel issues and predicting success.  Unlike many other online courses, the SMWW method focuses on audio chats directly with Dean Oliver so students learn first-hand from, a build a professional relationship with, an industry pioneer.
As the influence of basketball analytics continues to grow in the NBA it is also expanding into college, international and club teams who are hiring more analytic minds on staff.  Careers in research and analytics are in their boom cycle, primarily because there is the perfect mix of high demand and low supply.
"More and more teams, collegiate and professional, are developing and expanding their in house analytic staff," explains Dr. Lashbrook. "For example, there are 351 NCAA Division One Basketball teams. Of those 351 teams, very few have someone dedicated to analytics. Our research shows, that most all teams will employ at least one analyst in the very near future."
The University of Kentucky is one program with a full-time staffer dedicated to analytics, Joel Justus, while many other major programs are still developing their in-house analytics staff.
"Every day I come in here, it's a little bit of a tryout," said Justus, during an interview with the Lexington Herald-Leader. "That's the way I look at it. I've got to make sure that he [Coach John Calipari] sees that I'm valuable. So I have to make sure that what I'm giving him is good.
"We're using the analytics to help our players become better. To help our coaches understand how to coach our players better."
While the movie Moneyball helped make sports analytics appear mainstream, the reason this evaluation tool isn't a passing fad is because the results match the hype. Teams are changing their organizational philosophy, training methods, offense, defense and player evaluation processes to align with the numbers that correlate with success.
Analytics in sports is still in its growth cycle, with new jobs and careers opening up across the landscape. Winning equates to revenue, and if teams see an avenue to win more games they are going to invest in it.
With the right education in the world of basketball analytics, career opportunities will open up faster than Charles Barkley can put his foot in his mouth (again).