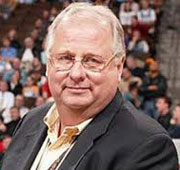 I'm a visual person, I like to picture what will happen before it happens. 
If I'm speaking with a reporter I try to visualize the setting, what questions they will ask, how I will dress, how I will respond. All of this visualization helps me build confidence.
Athletes are taught to do the same thing. A wide receiver visualizes the alignment of the cornerback defending him - is he up tight to the line? Backed off 5 yards? Shaded to the inside? Peeking into the backfield ready to blitz?
All of these potential scenarios changes the job of the receiver and is something they have to be aware of. Visualization helps them live the example and feel confident come game time. 
People from all walks of life can benefit from visualization techniques whether they are preparing for a job interview, a presentation at work, or the next phase of their career. 
New York Knicks Director of player Personnel Mark Warkentien (pictured left) received his Masters in Sports Leadership and is now pursuing his Doctorate through our program. He loved the experience and what it has done for his career, and you can too.
If you've been thinking about getting your Master's, but aren't quite convinced, maybe it'll help you to visualize what post-graduate life will be like after you apply for our Masters in Sports Leadership course taught in conjunciton with Concordia University of Chicago. 
You'll have an academic advisor assigned to you to help design your personalized academic plan. Your advisor sticks with you throughout your time getting your Masters, use them wisely! They know the ins and outs of the program and can help you choose the classes that best align with your career goals.
You can take up to 2 courses per 8-week session, each course is 3 credit hours and a total of 33 credits are necessary to complete your Masters.
There are 19 courses offered, so you'll be able to choose between subjects like Economics of Sports and Dynamics of Coaching – whatever suits your career goals best (hint: lean on your advisor!).
After choosing your classes, you'll get a course syllabus and books to buy prior to your first class. You'll know exactly what to expect from each class, and what is expected of you.
Courses have around 12-15 students, you'll get to know your classmates through group discussions and start building your network of industry peers.
Classes are all online, you can take them from anywhere, and include audio chats with sports executives
There are assignments due every week, many are essay based and (gasp!) some teachers give tests!
Ater all this you'll be armed with the skills sports industry employers need.
Is this starting to sound like something you can do, or better yet you want to do? Sign up today, take the courses, learn the sports industry and make your career move!