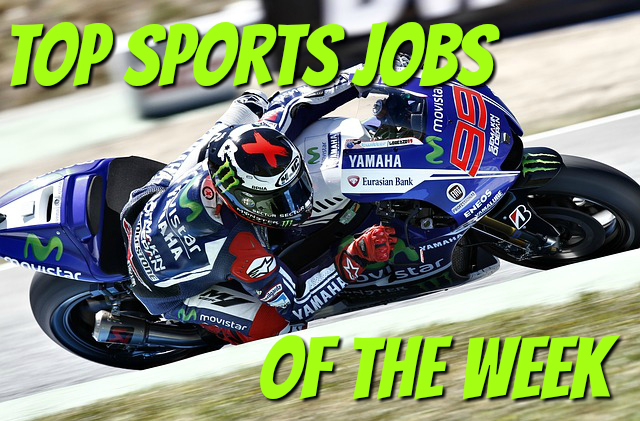 I'm here to spare you from the ongoing political discussion which is bound by anger, fear and for some, disappointment. This will not be a political discussion at all.
But there is a message we can all heed from what has transpired over the last week: don't blame, act. Don't whine, motivate. Don't gripe and moan after the fact, step up and do something before. 
These are messages you can grab hold of no matter the situation – politics, education, job seeking, home life, relationships – stop reacting and start being proactive. We all have a choice.
Don't wait for someone to say you aren't good enough, learn what you need to know and then go full force at them. Don't fail and then look around for someone else to place blame at – pick yourself up, figure out why you failed and FIX IT.
We all have an opportunity to succeed – so who out there is willing to go get it, rather than waiting for it to fall on them?
With that inspiration in mind, here are some of the top sports jobs of the week – some of you will go get them:
Soccer students, this is a great opportunity for work in the MLS with one of the best fan bases in the sport. Seattle supports their soccer team, to be in charge of helping with their events is a great way to make your name in the industry.
The Events Coordinator is responsible for Seattle Sounders FC major events and game day activations. The individual in this position will work directly with the Director of Game Presentation and Events while contributing to the operational and collaborative objectives of the department. 
Here's looking at you Basketball students! Get in the door with a WNBA team in a major city, and start to build your career on the operations and management side:
The Senior Manager Marketing and Promotions is a key member of the Dallas Wings marketing team. Reporting directly to the CMO, He or She will be accountable for delivery of an exceptional fan experience year-round.
Do you hope to be president of a baseball team someday? If you do, this is the type of job you should be looking at, Corporate Marketing Manager for a minor league baseball team:
You'd be a full-time salesperson making face-to-face sales calls to corporate executives. The position will be selling corporate ticket packages including season tickets, suites, ticket plans and group tickets. We don't expect that you'll know how to sell our different ticket packages, so we provide extensive training. We'll teach you how to make an appointment with the decision maker and how to help select the best ticket package for that company.
Hockey students, get in with the management an operations staff of a major NHL team.
The Human Resources Assistant will work closely with the AEG Sports Human Resrources Team in providing administrative support on a variety of daily activities including the processing of all employee status changes, maintenance of all employee data, responding to employee questions, assisting managers within the various businesses with HR policy and processes questions. In addition, the HR Assistant works independently and proactively, to assist AEG Sports Division in handling more challenging and less routine issues/projects.
Sales jobs are always in demand, so if you have taken our sports revenue management course this is a great opportunity for you. Also, our hockey students should know, breaking in with a team in the minor leagues is a good way to get your career started, then you can grow from the inside of the operation.
We are seeking a bright, talented, driven individual to join our sales staff. We are offering a dynamic, challenging and fun learning environment, an opportunity to work with an industry leader and a beautiful growing community to call home. This position will work with the Director of Ticket Sales and other Account Executives to achieve the objectives of the Ticket Sales department. The Ticket Sales Account Executive should possess strong communication skills, be detail oriented and be extremely comfortable working with business and organizational leaders in the community. Most importantly, the Ticket Sales Account Executive should be an excellent customer service provider.
Motorsports Management and Sports Revenue Management students here is a great chance to break into the racing industry at Sonoma Raceway in Sonoma California.
Sonoma Raceway is looking for Ticket Sales and Services Representatives. Job responsibilities and duties include selling season tickets, group tickets and individual tickets to all motorsports events at Sonoma Raceway. Research, prospect and establish leads of area businesses and individuals through sales methods including, but not limited to: phone, in-person appointments, networking events, promotional events, email, and social networking. Proactively use sales strategies to acquire and follow up on referrals.
Use the sales skills we've helped you nurture to begin your career in motorsports!    
NBA action is fantastic! And so is a job in ticket sales with an NBA team. Sports Revenue Management and Basketball students should take the opportunity to get in the door with an NBA team on the rise in Sacramento. Boogie Cousins needs you.
The Account Executive position is an incredible opportunity to start a sales career in the sports industry with an organization committed to professional growth and career development.  Account Executives will receive 2 weeks of the industry's best sales training and on-boarding program to help prepare them for success.
Account Executives experience every aspect of the ticket sales operation in addition to a 360 degree view of the organization, while developing the skill set needed to succeed in the sports industry through recurring sales and product training. Account Executives may be placed into a fast-track mentor team with a focus on Season Tickets, Group Tickets or Season Ticket Services. This is an opportunity to join a team thriving as the league leaders in new full season tickets sold, increased attendance and much more with continued aggressive growth goals leading into a new arena.
The primary responsibility of the Account Executive, Ticket Sales is to build relationships with potential prospects to sell new season ticket memberships, mini-plans and group tickets. Account Executives will have the opportunity to utilize the new multi-million dollar downtown Experience Center when hosting prospects at VIP events and Tours.
Sports Administration, Sports Media and Communication and Masters in Sports Leadership students – this is a great opportunity to get in at a smaller college that will gain you valuable experience as you grow into your career.
This position will report to the director of athletics and have a dotted line reporting relationship to the executive director for marketing and communications. With responsibility for all aspects of athletic media relations and communications, the director will facilitate the development and distribution of information related to all intercollegiate teams, coaches, and student-athletes across multiple platforms and social media outlets, including the Goucher Sports Network (GSN); update game notes and information; and maintain the athletics webpage.  The successful candidate will also be responsible for all aspects of traditional game day sports information operations which include marketing materials, producing pre and post-game video or audio interviews, arranging for action photography, logging game statistics and reporting results to the Landmark Conference, NCAA, and various media outlets. The director will also manage and supervise one part-time employee; student employees; and employees responsible for game-day operations including, statisticians, photographers, and public address announcers.  In order to secure appropriate game-day coverage and increase attendance at athletic events, the director will coordinate internal communications operations with various on-campus departments, including maintaining a strong relationship with the office of communications.