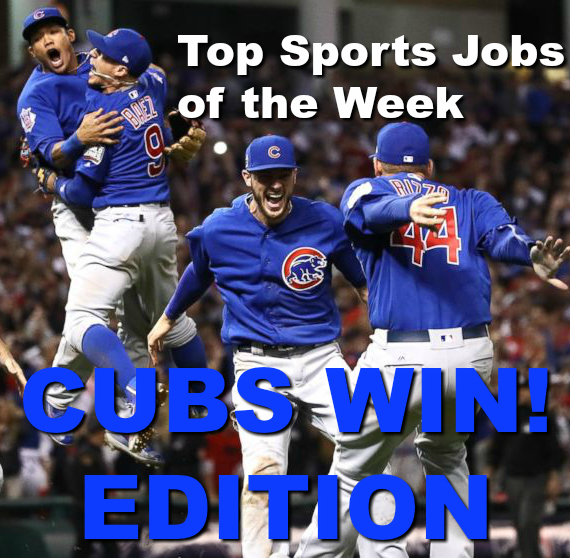 Immortality.
That's the only word I could think of after watching the Cubs complete their epic comeback to win their first World Series in 108 years.
Immortality for President of Baseball Operations Theo Epstein, Manager Joe Madden, MVP Ben Zobrist, Jon Lester, Albert Almora - the list goes on.
These champions will live on in folklore long beyond their days - heroes to millions of fans.
That is why we watch sports - and better yet - need to be a part of it. If you are reading this, you don't want to be just another couch warrior, you want in. You want to be a part of the team. 
We get it.
Moments like last night are exactly why we teach the intricacies of sports business in our online courses. We love the passion of sports, the teamwork, unity, mental toughness and fortitude it takes to reach the top.
Our goal is to help get you there and with that in mind, here are this week's top sports jobs for SMWW students and graduates:
The Canton Charge is an NBADL team affiliated with the world champion Cleveland Cavaliers. So let's talk about how this works – you get a job like this, work your butt off learn the ropes and then either grow within the Charge organization or get promoted to the big leagues. Teams like to promote from within, so getting in with a team like this presents a huge opportunity!
The Marketing Coordinator is responsible for all marketing aspects for the Canton Charge. Additional responsibilities include, but are not limited to, managing the concourse fan experience, coordinating team promotions, including giveaways and marketing messages in team inventory, managing budgets and coordinating all special events. The Marketing Coordinator is expected to work special events and all home games, as well as normal business hours.  This position reports directly to the COO.
For all of our Sports Administration grads & current students this is a great opportunity to help grow and manage a University athletic department:
The Assistant Athletic Director will work closely with the Director of Athletics in the overall leadership of a NAIA program. This individual will assist in planning, developing, implementing, communicating and administering the goals of this position in order to help fulfill University and Department objectives.
For all of our Sports Revenue Management students who love the NFL here is a chance to jump into the big leagues!
The Miami Dolphins are looking for the right individual to join their team and sell their new home, Hard Rock Stadium which will be a global entertainment destination. Home of the Miami Dolphins, University of Miami football team, Orange Bowl, Super Bowl 54, international soccer and a host of world-class events.
The Premium Sales Representative's primary focus will be prospecting local companies to set face to face meetings to discuss the value of annual suite ownership.
Dream job for our Soccer GM & Scouting, Coaching at the Next Level and Sports Administration students or previous graduates:
The Manager of Soccer Programs will assist in the day-to-day operations of all youth programs including; the Winter/Mid-Winter Camp System, Spring Break Camp System, Adult Camps, Youth Dream Camps, Community Outreach Clinics, Sounders Training Centers and Summer Camp System.
The Manager of Soccer Programs will concentrate on the business operations of the aforementioned programs.  This individual must focus on actively marketing existing programs, as well as help in the creation of new programs targeted at expanding the current customer base.  With the support of the Director of Soccer Programs, this individual must find creative ways to interact with new and potential Sounders FC camp participants and fans during non-peak seasons.
Baseball fans here is your chance to work for one of the best organizations in the game, the Binghamton Mets. Sports Revenue Management students are perfectly suited for this role! Baseball GM & Scouting students/grads should look into this role as well, as there will be an opportunity to gain front office experience:
This position is an opportunity to gain first-hand experience in a functional front office within the sports industry while focusing on the fast-paced world of sales.  We are looking for motivated individuals who have sales experience that can network comfortably with community leaders and build long-term relationships for the organization.  This position requires a great deal of time, dedication, and hard work during the season.
Soccer GM & Scouting and Coaching at the Next level students, this one is for you! The NASL's New York Cosmos are in need of a Training and Development Program Coach – talk about opportunity:
The New York Cosmos are looking to hire professional, qualified and experienced youth soccer coaches for the New York Cosmos Training and Development Program (TDP). Coaches will be providing New York Cosmos soccer training for youth players of different ages and skill levels within teams, clubs and leagues throughout the various regions in the Tri-State Area. 
Earlier this week we posted an article on the types of jobs you can get with experience in Sports Analytics, we'll we should have included this one! A content researcher for a national sports network is tailor-made for someone who understands data and statistics:
The Production Researcher will use broad and deep sports knowledge to ensure the accuracy of live news-and-information shows such as SportsCenter, and sport-specific shows on soccer, baseball, football, basketball and other sports and various game broadcasts. Responsibilities will include researching original content for full-screen graphics, anchor lead-ins, and original pieces, as well as creating and dispersing information to other areas of ESPN, such as Studio Production, Event Production, ESPN Radio, ESPN.com, ESPN Mobile, and ESPN International.
Sports Media & Communication and Sports Administration students take note! Susquehanna University, a DIII school, is looking for someone to help raise the profile of their athletic program:
This position supports Susquehanna University's long and proud Division III heritage by generating regional and national visibility for its student-athletes and 23 competitive intercollegiate sports. SU Athletics has won the Landmark Conference President's Trophy three of the last five years, recognizing the best overall athletics program.
Responsibilities include: handling sports media relations; maintaining the athletics website pages; developing media guides and supporting materials; compiling and distributing stats; managing web broadcasts; press areas for home games; supervising a full-time intern; managing student staff; coordinating Hall of Fame Committee and serving as the key spokesperson on athletics.
Another great stepping stone job for our Sports Revenue Management and Basketball GM & Scouting course students and grads. Working with season ticket holders and making sure they are happy is a big part of the business of any sport. A job like this will help you refine your interpersonal skills and help you learn the sports business from the inside out:
The Account Services Representative, under the direction of the Director of Service, performs retention, sales, and customer service activities as it relates to season ticket (MVP) Memberships, partial plan, group sales and event suite accounts, and general ticket-related services. While the focus of this role centers around servicing client accounts, the Account Services Representative will also identify opportunities for sales through upselling, cross-selling, and networking.
I had a very wise person tell me once, that when you are working for a team you aren't selling the wins, you're selling the experience. Of course, an organization like the Browns would like more wins, but this is an NFL job and it's hard to make it in the league so jump at a chance like this people!
The Account Executive, Season Ticket Sales is responsible for generating new business as it relates to Cleveland Browns ticket inventory.  It includes the selling of all PSL seating categories (inclusive of Club Seats) and non-PSL seating categories through cold-calling, face-to-face appointments, and networking.