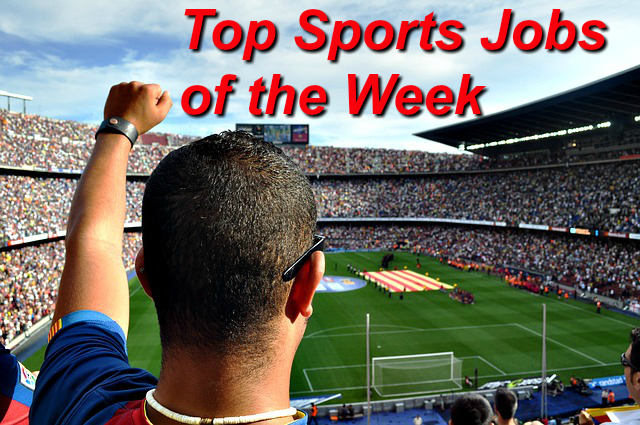 Last week we published our 2nd edition of the Sports Jobs of the Week perfect for SMWW students column and a really good question came back from Facebook.
SMWW grad Delano Sanders asked, "Are any of these good for graduates?"
YES, YES, YES!
The idea here is to help all of you - students, graduates, people considering a class who want to investigate their prospects and/or people with no connection to SMWW whatsoever. We're about helping people find their way in the sports industry, that is what we stand for, and we're here to help everyone.
What you will quickly realize as you study the trends in this column is:
A: There are a lot of great jobs out there in the sports industry (this is just a snippet!)
B: There are tons of jobs in sales
As you read these jobs descriptions and ponder your future, take a look at our Sports Revenue Management course, it will teach you the skills so many of these jobs need and set you up for sports career success. Promise.
On with the list!
National Team Coordinator - United States Soccer Federation
We start out this week with a big one! Soccer students this is the job for you, a stepping stone to a larger career with the national team.
This job will require administrative assistance for Youth National Team programming including the following:
Coordinate all aspects of team travel including air travel, hotel and meal arrangements, car rental, ground transportation, training field usage and acquisition of travel visas, as needed
Financial accountability of all expenses incurred by the team while traveling. This includes but is not limited to, player per diem, hotel expenses, tips, equipment and supply purchases, airport entry and departure taxes, referees, per diem employees, field rental and laundry
Correspond with players and staff regarding: availability, schedule updates, trip information, etc. Correspond with high schools, universities, and professional clubs regarding player releases
Maintain professional and accurate files on all team related information, including release waivers, contracts, game reports and trip reports
Ensure all delegation members are aware of and adhere to the policies set forth by U.S. Soccer's National Team Department. In conjunction with the team technical staff, ensure health, safety, and welfare of players and staff during any National Team trip
Accommodate all reasonable requests from the coaching staff, athletes and administrative staff, communicating effectively with everyone
Other duties as assigned
#dreamjob
Researcher – Comcast SportsNet
For our analytics students, when a major broadcaster is looking for a researcher it means they want someone who can come up with stats and information to help them tell their stories. Our analyst graduates are perfect for this job!
Job Duties 
Enterprise research packets and perspective for all CSN shows and other platforms 
Process information quickly and make it television "ready" 
Self-starter that is constantly up on all the latest sports news and information 
Must be able to handle day to day responsibilities as well as look ahead to big events where research is needed 
Write packages 
Write game stories 
Coordinate with show producers to produce show segments and news cut-ins 
Work on integrating social media across multiple platforms 
Willingness to create stat-based content for web and social publication 
Other duties and responsibilities as assigned
Analytics grads - you are ready to tell stories with numbers and data!
Academy Administrator – New York City FC
Sports Administration, Coaching at the Next Level, Soccer Management & Scouting --- graduates and students in any of these programs are well suited for this job with NYCFC's academy and youth programming.
Job duties include:
Day-to-day administration of team operations and administration
Assist in preparation for in-season travel, including;


Flights, Hotels, Transportation, Training Sessions/Field Acquisition

Organizing and maintaining daily training logs for all Academy teams; as provided by the coaching staff
Registration of Players to USSDA, tournaments, and Leagues
Main point of contact with U.S. Soccer Development Academy Staff
Day-to-day contact for parents & families
Securing of venues and permits for daily training sessions
Other duties as directed by the Sporting Department
Administration of NYCFC Academy Events
Summer Camp Events – Organizing and implementing
Collaborate with Youth Technical Coordinator to continuously improve Academy events and successfully run NYCFC Academy from an administration standpoint
Ticket Sales Representative – Indianapolis Motor Speedway
Motorsports Management & Sports Revenue Management students here is your chance to get in with an iconic speedway! The Indianapolis Motor Speedway is the largest spectator sporting facility in the world, with 235,000 permanent seats which can expand up to 400,000 when you open up the infield. If you can make a mark selling tickets here, you can do anything anywhere!
With the Ticket Sales Manager, this position provides a vital role for the Indianapolis Motor Speedway Sales and Marketing activities.  This position will be responsible for marketing and selling group tickets to the Indianapolis 500, Brickyard 400, the Grand Prix of Indianapolis and the Red Bull Air Race.
Make up to 400 cold calls a week.  Extensive phone work including incoming, outgoing and follow-up calls to new potential leads and former ticketing customers.
Reach sales goals via ticket sales to the following group sales markets: businesses, civic organizations, sponsors, car AND motorcycle clubs and fraternal organizations. Outreach to lapsed ticket customers for 2017 events.
Compliance with proven phone presentations and group sales approach.
Participate in sales events.
 Basketball Operations Video Internship – Charlotte Hornets
Do you know how many coaches and GM's got their start in the video room? Frank Vogel, Eric Spoelstra, Sam Presti, Ryan McDonough – the list goes on and on. This is a great role for Basketball GM & Scouting, Digital Video Editing with Synergy Sports and Basketball Analytics students.
This individual will work in the video room, help and aid coaches in specialty projects and stats needed during season, use Sportstec & Synergy to edit and log NBA/ College games, work on end of game situations, diagram plays, and help with practice and rebounding for players.
Internship duties include:
Assist staff with video room responsibilities
Assist with computer logging and editing game/practice film (NBA and College)
Learn Diagramming software to help diagram plays when needed
Record NBA, College, and European games
Assist in filming team practices and scrimmages
Be involved in tape exchange with other NBA organizations
Help provide specialty DVDs for coaches and others when requested
Assist with additional duties that may present themselves over the course of the season
Be available to help with on-court practice/workouts…rebounding, passing, etc.
Note:  This is an internship, and you need to be getting college credit to be considered.
Athletic Director – California State University, San Bernadino
Sports administration students and graduates, time to take the leap in your career and Direct your own athletic Department! Cal State-San Bernadino needs you!
Reporting to the Vice President for Student Affairs, the Athletics Director is a member of the Division of Student Affairs Senior Management Team and a larger leadership team that includes Student Affairs Directors and the University's Administrative Council.
The position directs and administers intercollegiate athletics on behalf of CSUSB and provides quality educational and student athletic experiences as part of a comprehensive effort to foster student-athletes' success. The position is responsible for planning, directing and coordinating a comprehensive athletics program for both men and women, providing leadership to a staff of 36, and overseeing a budget of 3.9 million.
The Athletics Director is expected to:
Work in collaboration with University Advancement to ensure fundraising goals are established and met
Promote and market programs
Develop funding initiatives for scholarships, innovative programs, and facilities.
Responsible for all membership obligations, representations and advocacies with the NCAA Division II and the CCAA Conference and will chair the Intercollegiate Athletics Advisory Committee (IAAC).
Premium Account Executive – Florida Panthers
Sports Revenue Management and Hockey GM & Scouting students – this one is for you! Get in with an NHL club in their sales department and the sky is the limit.
JOB DESCRIPTION/REQUIREMENTS:
·         Achieve and exceed monthly and yearly sales goals set by supervisor
·         Maintain and grow the relationships with existing clients
·         Actively prospect and research new sales leads, establish qualified leads, and close sales in-person or by phone
·         Set up meetings with key decision makers of community and corporate groups
·         Assist in creative concepts for group sales and event materials including brochures, flyers, and all other supporting materials
·         Provide superior customer service to clients both existing and prospective
·         Ability to sell full season and partial plans when necessary
·         Creative thinking and out of the box ideas to promote new group ideas
·         Must be available to work flexible hours including nights, weekends and holidays
·         Polished presentation skills with ability to confidently react to situations in a timely and professional manner
Ticket Sales Account Executive – Texas Motor Speedway
Sports Revenue Management and Motorsports Management students can start making a name for themselves at the Texas Motor Speedway!
TMS is looking for candidates that have a passion for the sports industry, a solid foundation of sales training, and ability to initiate phone calls, emails, face to face appointments, and create new innovative programs to increase attendance and drive revenue.
The Account Executive job is a full-time position with benefits.
Essential Duties and Primary Responsibilities include the following (other duties may be assigned):
Responsible for the sales of new Full Season, Partial Season and Group Outing ticket packages, as well as PSLs, Victory Lane Club, and Speedway Club packages to both the business and consumer sectors
Meet and exceed established weekly, monthly and annual sales
Maintain business relationships with a pre-determined book of business for on-going renewal and upsell opportunities
Implement and demonstrate outbound sales efforts by using sales and service best practices, prospecting, networking, lead generation, referral gathering, data capture and personal database management
Generate a pre-determined minimum number of outgoing phone calls per day with the purpose of creating new business opportunities
Generate a pre-determined minimum number of weekly out of office as well as in venue "face-to-face" meetings to create new business opportunities
Provide a superior level of customer service to all ticket buyers, regardless of level of purchase
Continually create and implement unique sales strategies, ideas and programs as a means of producing new business opportunities
Contribute positively to the sales team culture by developing mutually beneficial working relationships with all team members
Participate and contribute to daily or weekly sales team meetings and training sessions
Active involvement in at least one specified networking group, to assist in creating new sales opportunities
Director of Group Ticket Sales – Charlotte Knights
Question: Who lead Minor League Baseball in average attendance in 2014, 2015 and 2016? That would be the triple A affiliate of the Chicago White Sox, the Charlotte Knights. So you have a team leading the league in attendance and looking for a Director of Group Ticket Sales, this sounds like a dream job for our Sport Revenue Management graduates who have been out there working for a bit. Time to take a step up the ladder.
Collaborate on a sales and marketing plan aimed at increasing group and hospitality ticket revenue with a focus on generating new business.
Monitor weekly progress of group sales team members through hands-on leadership, training programs and individual progress initiatives.
Market and sell group/hospitality outings through research, cold calls and client referrals. This includes daily phone calls and setting up face-to-face meeting with current and prospective clients.
Generate strategies to maintain and cultivate niche groups within the Charlotte market, including youth sports, schools, community organizations and other special focuses.
Oversee customer database management and create daily, weekly and monthly group sales tracking reports.
Utilize ticketing system to analyze past ticket buyers and generate leads for daily sales efforts.
Attend business networking events throughout the Charlotte community.
Sales inventory includes, but is not limited to, group ticket allotments, hospitality areas and suite rentals.
Other team-related duties as directed by the Director of Tickets Sales & Operations, Vice President of Sales, General Manager and Chief Operating Officer.
Other: Continually provide exceptional guest, partner, and client experiences.
Inside Sales Representative – Colorado Avalanche
Getting in with an NHL team by any means necessary should be the dream of all of our hockey students and graduates, well here is your chance! The Colorado Avalanche need inside sales reps, and this is a great way to make name for yourself by creating revenue for the organization (psst – Sports Revenue Management student should apply for this job too)
The Inside Sales Representative position focuses on selling season tickets, partial ticket packages, group tickets, and various ticket packages for the Colorado Avalanche. In addition, this entry-level position concentrates on training, sales skills, and developing experience in the competitive industry of sports and entertainment. The position pays an hour wage plus commissions, and includes medical benefits.
MINIMUM POSITION RESPONSIBILITIES:
Generate revenue through selling new full season tickets, partial ticket packages, and group tickets.
Exceed over 80 cold calls per day.
Meet or exceed weekly and monthly sales goals.
Set a minimum of four face-to-face appointments with prospective clients at Pepsi Center.
Proactively prospect new leads through networking, referrals, and research.
Generate new leads through working sales tables at every game.
Exhibit excellent customer service to both current and prospective clients.
Well, that's it for this week – go get 'em!