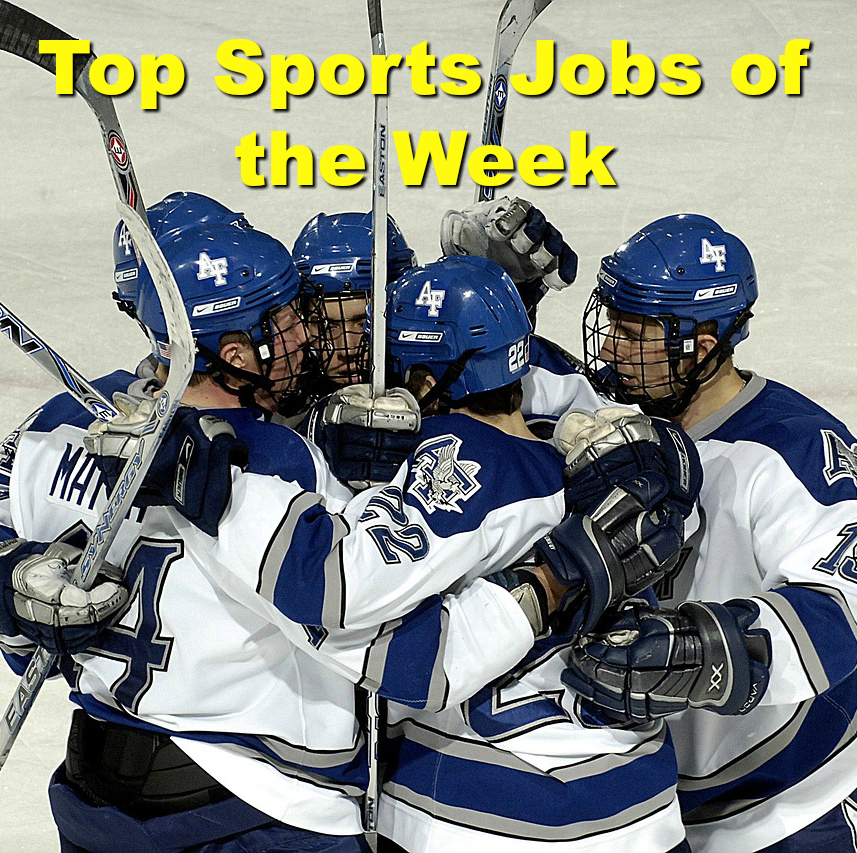 Welcome to the second edition of our Top Sports Jobs of the Week!
As the leaders in online sports education we know that your goals aren't just to get smarter, they are to get a job you love!
With that goal in mind, we're always on the lookout for jobs that can match our students acquired skills. We have a vast network of contacts that we always use to help you, but we also look outside our circle of influence for even more career opportunities.
Every Thursday we'll bring you 10 of the best sports jobs of the week, with links included that make it easy to apply.
So let's get to it already!
Game Night Staff – Group Sales, Golden State Warriors
When the most exciting team in the NBA has a job opening you should really take notice! The Warriors are looking for game night staff to make the in-arena experience fun for the audience, while also assisting with group sales. This is a perfect 'get your foot in the door' opportunity. Get in on the ground floor and work your way up! Good opportunity for students who have taken sports revenue management or Basketball GM & Scouting.
Key Responsibilities include (keep an eye on the last one)
Assisting with facilitating Fan Experience Programs (Primetime, Halftime, Fan Tunnel, Anthem Buddies, Courtside Shoot Around)
Supporting organization and Arena staff, creating a fun environment
Assisting Warriors Group Sales staff with Special Events
Providing exceptional customer service
Setting up and breaking down of Special Event Giveaway Table
Assist with promotional item giveaways on Special Event Nights (Heritage Nights, Hoops for Troops, etc.)
When needed, work hours in office to assist with marketing collateral creating, research and other needs
The last point is the big one, there is an opportunity here to grow and impress the operations and marketing staff.
Community Relations & Alumni Association Coordinator - New York Islanders Hockey Club
This one is for you Hockey GM and Scouting course graduates!
This is a full-time position within the New York Islanders Community Relations Department. The ideal candidate will be energetic, enthusiastic, hardworking, creative and committed to promoting the New York Islanders in the community as well as fostering relationships with former players and staff through the New York Islanders Alumni Association.
Sounds pretty great right?
Special Event Assistant – Oakland A's
I finally watched Moneyball this weekend while on a flight, kind of makes me want to work for the A's too! (Especially when they relocate to Portland ;) ). This position is another great one for our Baseball GM & Scouting and Sports Media & Communication graduates.
The Oakland Athletics are currently seeking a Full-Time hourly Special Events Assistant. This position will report directly to the Sr. Manager of Promotions & Special Events. The Special Events Assistant will assist with the coordination and fulfillment of all special events and promotions that take place throughout the year and will be responsible for, but not limited to the following:
• Oakland A's Kids Club Program
• Oakland A's Little League Days
• Assist in the implementation of game day operations, entertainment and events Pregame, In-Game and Post-game
        o Assist with National Anthem / First Pitch / Color Guard
        o Assist with the Mascot and Promo Team
        o Opening Night
        o Heritage Nights
        o FanFest
        o Special Ticket Events
        o RootBeer Float Day
        o Breast Cancer Awareness Day
• Assist with management of specific A's event budgets
• Assist with event recaps, maintain databases and other administrative duties
• Assist with various Corporate Events
        o Spring Training Trip
        o Golf Tournament
        o Clinics / Batting Practice
Academy Administrator – Atlanta United FC
To all of our soccer and coaching at the next level students here is the opportunity you have been waiting for!
The Atlanta United Academy Administrator will be responsible in leading the operational aspects of all Academy events and happenings including organization and programming of the new Training Ground. The Academy Administrator will also assist the Academy Manager and Director with the organizational and logistical aspects of the Academy.  
Essential Responsibilities:
A list of broad duties that include: managing the professional tryouts, 1st team scouting, and projects, organizing team meetings, note taking and organizing, and other duties
Lead the logistical aspects of the Academy ID sessions and tryouts
Administration needs of 120 players and 10 staff members within the Academy system
Manage all lines of communication between coaches, players, parents and homestay families
Assist with the Academy travel logistics
Compose and distribute travel itineraries. Review and reconcile expenses post-trip
Organize all Academy gamedays
Academy player onboarding – complete SFC and US Soccer registration
Liaise with opposing teams, sponsors and governing bodies i.e. US Soccer, Major League Soccer and Adidas
Plan and attend all Academy meetings; take and distribute notes following each accordingly
Organize and distribute Academy calendar
Responsible for budget oversight and management of the Academy Department
Serve as an ambassador on behalf of Atlanta United FC in the US soccer community
Ticket Operations & Box Office Manager - Youngstown Phantoms
Hockey GM & Scouting and Sports Revenue Management students check this opportunity out in the USHL.
Manage all aspects of hockey box office operation and create, maintain and enforce high standards in customer service.
Account for all ticket sales and establish and maintain seating plans. Coordinate all aspects of placement/payments of season tickets, flex packages and group accounts with Staff Account Executives. Work directly with sales staff to ensure a timely and accurate processing of sales orders.
Have a thorough understanding of the Ticketmaster system.
Set up Ticketmaster with all season games and vouchers; supervise and regulate the accounting and fiscal control of all monies, tickets and other valuables in the Box Office;
Prepare and supervise daily ticket deposits, cash and credit card deposits and daily audits; maintain accurate accounting records, and prepare post-game audits; supervise and train box office staff.
Handle game day ticket sales and will-call.
Solicit new and existing business for season ticket and group seating.
Complete personal sales calls, identifying customer needs and interests.
Sounds right up your alley, doesn't it?
Baseball Operations Intern – Cincinnati Reds
Sure, you'd rather get a full-time job than do another internship, but sometimes to opportunity is too great to pass up and working in the operations department for an MLB team is one of those opportunities. Don't overlook this one Baseball GM & Scouting students, just look at these responsibilities!:
The Cincinnati Reds are seeking a Baseball Operations Intern. This individual will provide daily support to all members of the Baseball Operations Department through a wide range of administrative tasks and projects.
Essential Duties and Responsibilities:
Assist in preparation of advance scouting documents and video for players and coaches before every series
Perform research and analysis on various topics throughout the internship
Preparation of materials for use by front office during spring training, amateur draft, trade deadline, etc.
Go for this!!
Youth Hockey Coordinator – Nashville Predators
This job is perfect for students in our Hockey GM & Scouting course or Coaching at the Next Level. If you are a youth hockey coach and want to take your coaching skills up a notch, there is no better place that within the NHL! And for Hockey GM & Scouting students, if you have some coaching background this is a great way to build your name with an NHL team! Check out these responsibilities:
·         Assist in the planning, organizing, directing and promoting of "in – house" youth hockey programs.
·         Work closely with other staff in the recruitment and training of coaches and volunteers.
·         Assist in the evaluation of players for proper placement in various programs.
·         Help to maintain facility ice schedule.
·         Coordinate other full/part time staffing responsibilities associated with programs.
·         Work with Manager to plan, organize and promote an in-house youth hockey league to drive season over season revenue.
·         Process registrations, collect payments by due dates, organize teams and create schedules.
·         Assist in organization and instruction of in-house hockey classes, clinics and camps and coordinate all aspects of the event, to include PREDecessor to drive transition into leagues.
·         Coordinate all aspects of facility equipment rental program for in-house programs from fittings, payments, tracking, returns, sani-sport and organizing the equipment rental room.
·         Manage written and verbal correspondence and communication for youth leagues and programs.
·         Resolve and respond to all customer questions, concerns and complaints in a timely manner.
·         Work with Manager to recruit, hire, train and schedule part-time coaches for in-house youth league.
There are more responsibilities that come with this role, this is just a snippet to get you excited!
Media Relations Trainee - Sacramento River Cats Baseball Club
Sports Media and Communication and Baseball GM & Scouting students should take a close look at this opportunity. Another great way to get your foot in the door within the operation of a professional baseball team.
The Sacramento River Cats are the Triple-A baseball affiliate of the San Francisco Giants Major League Baseball Club. We are looking for a highly talented, professional team of media relations trainees eager to assist in both short- and long-term media and public relations projects starting mid- to late-January and ending in early September. The hours of the trainees fluctuate depending on game times and team travel schedule (expected 20 hours per week).
JOB DESCRIPTION:
Work with Media Relations Staff to prepare for pre-season media activities; including 2017 media guide creation and media day planning.
Assist in preparation of all game day media information: Daily game notes, press clips, statistics, rosters, transactions, supplemental bios, and more.
Supply content for River Cats daily online baseball information and print publications.
Write daily game story while team is at home and on road.
Write River Cats feature content for The Inside Pitch magazine.
Assist with management of Raley Field press box before, during and after games.
Assist in the creation of unique, behind-the-scenes content for use by River Cats and media.
Assist in various player appearances and executing media requests. 
Assist marketing and community relations departments as needed.
Assist print, radio and television media at Raley Field.
Assist with writing of team and organization press releases.
Deliver local media drops multiple times throughout the season.
Contribute to all River Cats, Raley Field, and associated social media outlets, including Twitter, Facebook, Instagram, and Snapchat.
Perform various tasks and duties for both the Baseball Operations and Marketing teams as necessary.
Additional duties and responsibilities as necessary.
Sales Associate, Inside Sales – Carolina Hurricanes
A job in the NHL? Thank you very much, I'll take it! Sports Revenue Management students this one is for you, inside sales with an NHL team!
The primary focus of this position is to develop you into a sales professional who will sell all ticket-related products for the Carolina Hurricanes.  The emphasis will be on Full Season, Partial Plan packages and Groups.   One of the primary objectives of the Inside Sales Department is to develop future sales executives and leaders inside our organization. We are committed to providing members of our team with a strong foundation upon which you can build a career in the sports industry. You will benefit from an on-going training program where you will learn best practices, sales techniques, and valuable skills that will help you be successful. 
Assistant Director Athletic Communications and Media Relations – SUNY Geneseo
The athletic department of the State University of New York – Geneseo is seeking an Assistant Director of Athletic Communication and Media Relations, which sounds perfect for our Sports Media & Communications grads.
The Assistant Director of Athletic Communications and Media Relations will assist the director in coordinating all aspects of publicizing the Intercollegiate Athletics and Recreation program at Geneseo, including its 20 teams and over 400 student-athletes, coaches and administrators. Maintain a relationship with its constituents including local/national media, NCAA, SUNYAC, family members, alumni, fans and donors across various mediums, including the department website (GeneseoKnights.com), social media, live events, webcasts, feature stories and press releases.
The responsibilities of the position will include but are not limited to:
• providing timely updates to supporters through the dissemination of news releases, alumni and booster newsletters and other publications; 
• website developing, implementing and maintaining; 
• further expanding and implementing a comprehensive social media plan; 
• supporting the Office of College Communications and Marketing staff while working collaboratively with other administrative units across the institution; 
• continuing the expansion of video streaming/multimedia efforts for the department 
• maintaining department historical records/statistics for all sports; 
• reporting regularly to NCAA and SUNYAC; 
• preparing staff and student awards nominations; 
• assisting in fan promotions and event marketing; 
• hiring, training, and supervising student interns to assist with office operations.
And finally…
Boston Bruins Blog Manager – SBNation.com
This role is a great chance for our Hockey Analytics, Hockey GM & Scouting and Sports Media students to show off their knowledge of the game of hockey. Taking over this popular blog will give you a platform to show your knowledge and insight into the game, which could be your stepping stone to a larger role with a team. Media members have become GM's before.
The perfect candidate can express her or his thoughts about the team and the sport in a consistently engaging way. Hopefully, you're as big of a nerd about the Internet, social media, and sports journalism as you are about the Bruins. You should have experience managing people, the ability to delegate and an insatiable desire to discover and produce work that Bruins fans love.
Responsibilities:
Write, edit and ensure regular publication of quality Bruins writing.
Manage a diverse team of writers.
Operate the site's Facebook page, Twitter account and other social media channels.
Communicate regularly with SB Nation management about site goals, traffic analysis and progress.
Shape the editorial direction of Stanley Cup of Chowder.
Requirements:
Obsessive knowledge of and passion for the Boston Bruins, the NHL and hockey.
You're a great writer, communicator and manager.
You're experienced with web publishing tools (or you're a quick learner).
You take pride in what you do.
That's it for this week – let us know what you think of this list and if there are other types of jobs you like is to be on the lookout for!