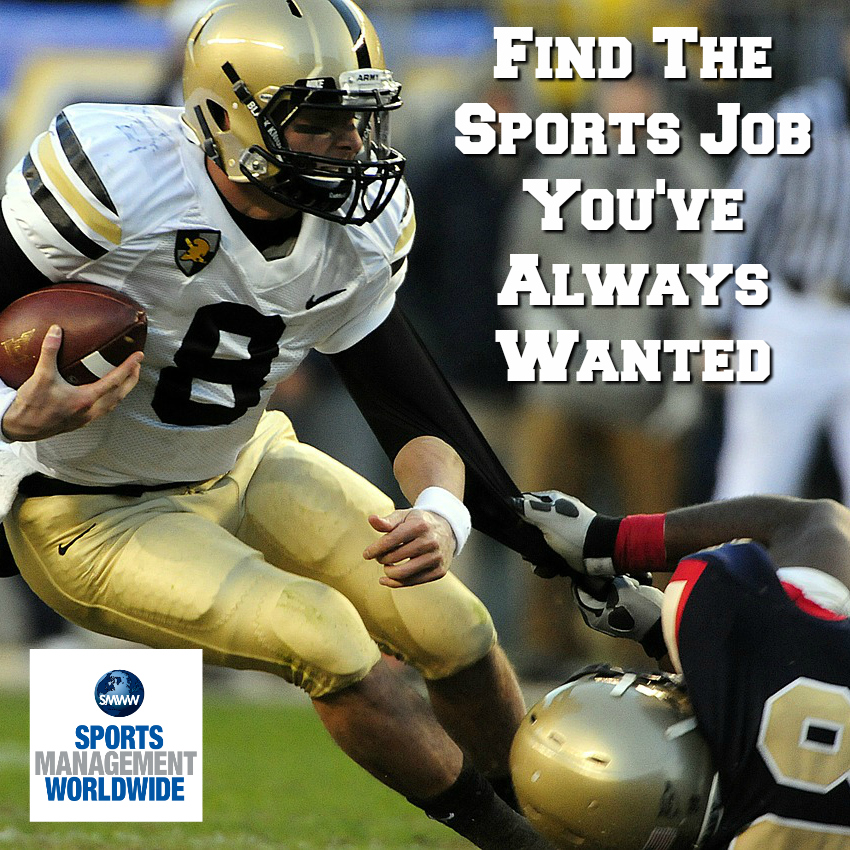 Welcome to our new weekly column where we will highlight 10 recent job openings in the sports industry perfect for our students! 
Sports Revenue Management students will always find a plethora of sports job openings since talented salespeople are always in demand (and we train talented sales people).
But you'll also find opportunities for Baseball, Hockey, Basketball and Football GM & Scouting course graduates, XOS digital video editing, sports media communications, sports broadcasting grads and more!
Check this out every week to find the best sports jobs on the market!
Dream of working in the NBA? We'll here is your chance! The Orlando Magic are looking for a Premium Sales Account Executive, and our Sports Revenue Management students are qualified to maximizing revenue by selling Luxury Suites, Loge Boxes, Chase Suite Seats, MVP Tables, Hospitality Rental/Suites, Icon Suite Memberships, Orlando Magic Gala Tables, Courtside and Ultimate seats at the Amway Center.
Time to make your move to the NBA!
For anyone who has taken any of our Basketball courses or Digital Video Editing, this could be a great match for you. The University of Louisville is seeking a Video Coordinator and Graphic Designer for the Women's Basketball team. They are also expecting this person to be able to navigate their social media channels, a very versatile position!
The ECHL's Missouri Mavericks have an opening for a ticket sales representative, which would be a great starting point for anyone who has taken our Hockey GM & Scouting course, or Sports Revenue Management. Sometimes it's just about getting your foot in the door and working your way up, this could be the entry point you are looking for!
The PCL's Oklahoma City Dodgers, the Triple-A affiliate of, you guessed it, the Dodgers, is in need of a Corporate Marketing Manager, Outside Sales. If you want to someday be the president of a team, this is the role for you – I'm looking at you Baseball GM & Scouting course students and Sports Revenue Management students! From their own words: The position will be selling corporate ticket packages including season tickets, suites, ticket plans and group tickets. We don't expect that you'll know how to sell our different ticket packages, so we provide extensive training. We'll teach you how to make an appointment with the decision maker and how to help select the best ticket package for that company.
The AHL's Hartford Wolfpack are looking for someone to help with their game day and community event promotions, within the team marketing department. Much like the last job, this is a strong entry point for anyone who has taken our Hockey GM & Scouting course, get in the door, prove yourself and work your way up the ladder!
For students who have taken our Digital Video Editing with XOS course, or the Football GM & Scouting course, this could be the opportunity you have been waiting for. A major college program needing an Assiant Video Coordinator to develop and execute weekly plans to highlight unique Maryland Football through video; film team functions and events throughout the year; produce weekly team highlight, recruiting, and motivational videos. Capture video and still headshots of prospects during official visits.
Students who have taken our Football GM & Scouting course, this is a great way to get in with a team and start working behind the scenes. Beat writers, especially those who work for the team, get access to players, management, executives and more. Talk about a networking opportunity!
Baseball GM & Scouting students and Sports Revenue Management students, this is the job for you! The New Hampshire Fisher Cats, the AA affiliate of the Toronto Blue Jays are seeking a Director of Business Development. You'll be responsible for the Business to Business sale of sponsorships, advertising, season ticket, and hospitality products. Great way for GM students to work behind the scenes and see the whole operation. Revenue Management students, this job is in your wheelhouse!
The perfect role for our Sports Media & Communication students, our Sports Revenue Management students, and our Sports Broadcasting students. Get in with the worldwide leader in sports and see all the opportunities you have to grow from within. It's a win-win!
ESPN Audio is seeking a self-starter with emphasis on New Business Development, Live Sports Sponsorship, and experience in Multimedia Sales including TV, Radio, Digital and Experiential Marketing. This individual should possess a strong sales acumen and deep knowledge of Sales and Sponsorships Processes. Also, a strong team player with excellent communication skills is required. 
The Lakewood Blue Claws, the single-A affiliate of the Philadelphia Phillies, are in need of a Marketing & Sponsorship Services Manager. A great role for any of our Sports Revenue Management students. The role will require servicing sales accounts by providing quality customer service and client satisfaction, fulfillment of marketing agreements, assistance in the retention of and renewal of established accounts and more duties as assigned.
That's it for this week - apply away and let us know how it goes! You are ready for this!