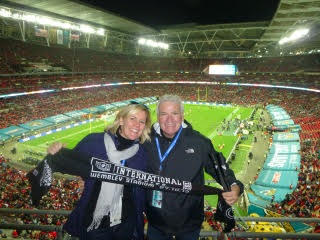 I've never been afraid to zig when everyone else is zagging.
When most in the sports world were leaning into brick and mortar schools, I launched an online sports management program that has now helped over 15,000 sports minded people in 140 countries. When sports industry "experts" focused solely on domestic growth, I pitched it was time to 'Go global or go home'.
Well, I'm doing it again. There will be an NFL team in London in 5 years. You heard it here first.
Well, to be honest you heard it from me back in 2007, after the first NFL International Series game. I knew in that moment this was a business opportunity the bright minds in the NFL would salivate over.  
I got laughed at when I appeared on London news stations and stated that fact 10 years ago, but I'm doubling down now. This will happen.
Why 5 years from now?
Two main reasons: The NFL CBA (Collective Bargaining Agreement) is up for renegotiation in 2022, and there are truckloads of money to be made in the European market.
Sure, there are obstacles.
Nay-sayers will talk about the logistical issues of a team in London - how taxing it will be for teams to travel that far, and for the London based team forced to fly through multiple time zones with each road trip.
But let me stop you right there, do you really think this is an insurmountable problem?
One idea, change the schedule to 18 regular season games and two less pre-season games, that way more bye weeks can be included in the schedule and each team that competes in London gets the next week off.
There is one issue, solved on the back of a napkin.
Of course it needs more thought, but where terrific opportunity lies, so does great innovation. Logistics are a problem that has a solution, especially with bags of money dangling in front of some of the world's most astute business minds.
The global market for football has barely been touched. A game in Mexico City, or a few games in London, is just scratching the surface of the sports potential outside our borders. There is a global appetite for American Football, and that isn't diminishing. The International Series games sell out huge stadiums in minutes!
Envision this future – a U.S. based conference, and an International based conference.
Worried there isn't enough talent to go around? Wait to see what happens when you put the potential of American Football in front of athletes around the globe. Do you think America is the only place in the world with 300lb athletes and rifle armed quarterbacks?
Once you expand the potential for the game, you'll find there are athletes in Africa, India, Asia and Europe with the skills to play football at an elite level when given the opportunity and proper training.
The International Series games have been a proof of concept – a trial balloon to see if the fans would emerge and pay for the apparel and tickets.
Well, they have. Now it's the time for the next step, and that means a full-time team in London, a team the UK can call their own.
Just remember you heard it here first.