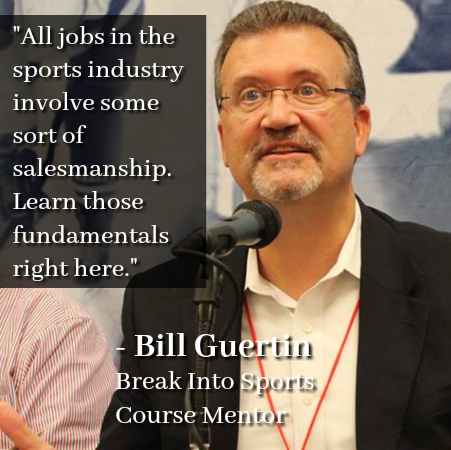 Spend any time studying the sports industry and you'll find there are hundreds, maybe thousands, of different career opportunities to be had.
From mascots to team presidents, there are so many different sports career paths you can choose.
But the truth is, there is one particular segment of the industry which presents your absolute best chance of breaking into sports and developing a successful career for yourself.
""Revenue management is the one thing every team needs more of, it's the one thing that really drives every sports organization," says Bill Guertin, CEO of sales and marketing consulting firm The 800-Pound Gorilla and SMWW Break into Sports course mentor.
Guertin is one of the top sales training authorities in North American professional sports, having worked with over 60 professional teams to dramatically increase their sales representative's performance and crush their goals. 
His sports sales training has improved the bottom line of iconic sports franchises like the Boston Red Sox, Calgary Flames, Golden State Warriors and San Francisco Giants – and now he's sharing his industry knowledge and network with SMWW Break into Sports students.
"All of the jobs in the sports industry involve some sort of salesmanship," says Guertin. "If you are in marketing you need to sell your idea to executives, if you are in training you have to sell your methods to the players, if you are an agent you have to sell your athlete to teams. 
"These fundamantals of selling are covered in great depth during this course."
After completing this course you will be trained and ready to impact the bottom line of any sports organization. That, combined with the network of sports contacts SMWW has from London to Los Angeles, will help propel you towards a career with the sports team of your dreams.
"I'm in the front offices of different teams in each professional league, so I know what they need and want, that insider knowledge will give you a leg up against the competition," adds Guertin. "Most of the time teams hire me just before they bring on more full-time staff, so I'm literally on the inside track of when these teams are about to hire and who they are hiring, this is a huge advantage to taking SMWW's Break into Sports course."
In our industry-leading Break into Sports course you'll not only learn the secret to kicking down the front door of the sports industry, you'll learn the exact skills that teams, leagues, conferences, governing bodies and organization need today including:
Successful sports marketing and sales techniques
Crafting community relations programs that benefit organizations
Customer service and event management practices
Advertising and strategic branding practices specific to the EPL, NHL, MLB, NBA, MLS, NFL, NCAA and minor leagues
Successful promotions used by sports teams and college teams
An understanding of front office operations and positions
Identify successful revenue streams available to teams through corporate sponsorship
Learn high-tech e-marketing revenue and marketing campaigns
This course will make a difference in your sports career, in fact, we feel confident within three months of graduating from this 8-week online course, you will be offered full-time employment.
Sign up today and make your move in the sports industry!