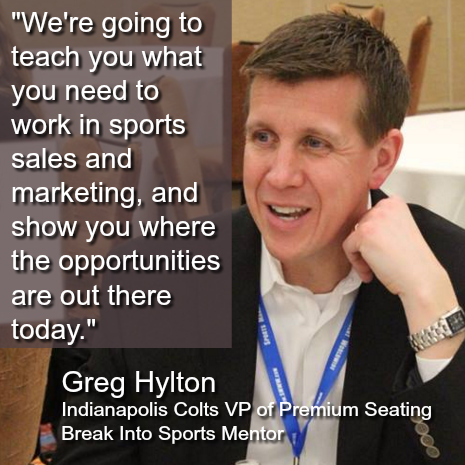 There is great power that comes from controlling the flow of money. If you can make it, find it, develop it, trade it or sell it, you hold the power and will always be in demand.
A sports team could win every game, but without fans paying for tickets and buying apparel, and corporations buying suites and sponsorships, none of it would matter, because there would be no monetary return.
In sports it's not just about winning, it's about convincing an audience they need the experience of being there live and in the arena. It's about showing a corporation that their target market will be at the game, absorbing their brand messages.
It's about using different methods to create various types of sales!
But here's the disconnect – when most people hear the word sales they get chills, and not the 'I'm so excited I can't control myself' type. Sales have a negative connotation. They evoke memories of phone calls during dinner, doorbell rings that break your protective bubble and high pressure moments you get stuck in.
How many times have you been cornered by a sales person and thought – I don't know how these people do it?
Here's the thing – sales are a much different animal in sports. This is professional sales, built around relationships, business acumen, marketing, forecasting, and problem-solving. Those are the skills we teach as part of our 8-week online Break into Sports course.
We'll teach you how to develop the skills that are in demand with sports teams and organizations.
"I had minimal traction in my sports career search until I signed up for SMWW's Break into Sports program," recalls course graduate Joey Seymour. "Then I was offered and accepted a full-time position with the Los Angeles Dodgers! My hometown team and dream job!"
Joey's situation is more common than you think, in fact jobs in sports sales are so heavily in demand that we feel confident within three months of graduating from this 8-week course, you will be offered full-time employment.
Not only that, we'll help you redesign your resume and include a reference from course mentors, Greg Hylton, VP of Premium Seating for the Indianapolis Colts, Bill Guertin, 800-lb Gorilla President and CEO and Tom Leip, 30-year veteran of Minor League Baseball operations.
If you are serious about your sports career, it's time to sign up for our Break into Sports course today!