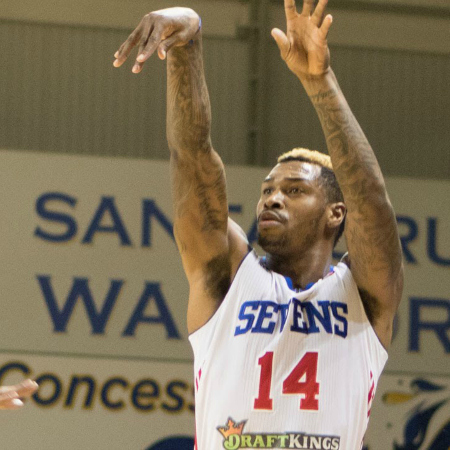 In January of last year Sean Kilpatrick was a relative unknown in the world of professional basketball.
Despite being named first-team All-American his senior year at the University of Cincinnati, the 6'4" shooting guard went undrafted in the 2014 draft and became a gypsy of the basketball world.
Kilpatrick played with the Philadelphia 76ers during Summer League and signed with the Golden State Warriors for training camp. After being cut in the preseason he joined the Warriors' NBA D-League team in Santa Cruz. But the ride didn't stop there; he was traded mid-season to the Delaware 87ers before finally earning his way back to the NBA to play with the Minnesota Timberwolves on a 10-day contract.
That was just 2014-2015.
Kilpatrick knew he could score, rebound, defend, pass – he had the skills and the confidence to compete in the NBA, now he just needed a real chance to prove himself.
Then came the 2016 NBA D-League Showcase. 19 teams competing with scouts and NBA executives all in one arena to watch the NBA D-Leagues best matchup head-to-head.  This was Kilpatrick's moment and he knew it.
Two games played, 33 ppg average on 7 of 16 shooting from three-point range. Kilpatrick didn't shrink in the moment, he dominated it.
Just three days after being named to the NBA D-League All-Showcase First Team he was signing a contract with the Denver Nuggets. One year later, he has a multi-year deal with the Brooklyn Nets and is averaging over 16 ppg in regular NBA minutes.
This isn't just Sean Kilpatrick's success story - it could be yours.
During this year's Showcase event at the Hershey Centre in Mississauga, Ontario, Sports Management Worldwide will be hosting our first annual NBA D-League Showcase Basketball Career Conference Friday, January 20th.
"Anyone interested in basketball or learning what happens behind the scenes in the NBA is a match for this conference," says Dr. Lynn Lashbrook President of Sports Management Worldwide. "There are twenty-two NBA D-League teams with direct relationships with their NBA affiliates. The D-League teams not only provide a feeder program for professional basketball players, but also provide the perfect situation for anyone in marketing, sales, finance, fan engagement, communications, community events and more to learn the industry and grow."
Our NBA D-League Showcase Basketball Career Conference will provide people of all ages with a desire to work in professional basketball, insight and exposure they can't get anywhere else:
Network with sports business executives
Receive career guidance from well know sports executives like NBA Development League President Malcolm Turner
Insights on who is hiring and what skills you need to get hired
Connect with other sports career minded individuals
Learn strategies to catapult your career to the next level
Get insider information to changes in the industry
As Sean Kilpatrick proves there is no one path to the NBA court, just like there is no one path to the NBA front office, but there are some tried and true methods for reaching your goals. Networking, modeling successful executives, learning new skills – all of these topics will be covered at the NBA D-League Showcase Basketball Career Conference.
Register today and change your career outlook! Early bird pricing through January 3rd!